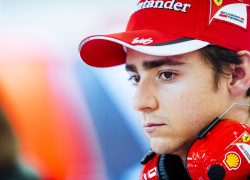 The American Haas Formula 1 team has confirmed that Esteban Gutierrez will complete its driver line-up for the 2016 season.
It has long been expected that the Mexican driver would fill the second seat the American team. However, it has now been confirmed by the driver himself. "Next year I will race with Haas and I am very happy about it," said Gutierrez. "It is a new adventure for me and I will make the most of what I have learned at Ferrari."
The twenty-four year old driver has spent the 2014 season as reserve driver for the Ferrari Formula 1 team. Gutierrez last stint in Formula 1 was with the Sauber F1 team.
The Mexican driver will partner Romain Grosjean who was announced as the team's first driver several weeks ago.
Photo credit: Scuderia Ferrari Formula 1