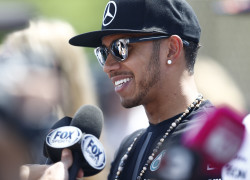 Mercedes driver Lewis Hamilton secured the 44th pole position of his career ahead of Sunday's Canadian grand prix.
The reigning champion will be joined on the front row of the grid by teammate Nico Rosberg while Ferrari's Kimi Raikkonen set the third quickest time.
Misfortune befell Sebastian Vettel's Ferrari in the first session of the qualifying hour and stopped the German from progressing any further. The number 5 Ferrari will start tomorrow's race in 15th place. McLaren's Jenson Button had no better time of it as he was completely ruled out of qualifying with an power unit related issue in the final free practice session a few hours earlier.
Similarly, Felipe Massa's afternoon was ruined by an engine issue which will see the Brazilian start the race in 16th as Toro Rosso's Max Verstappen will incur a 15 place drop on the grid for an engine change. Valtteri Bottas meanwhile was able to set the fourth fastest time.
Lotus Romain Grosjean showed an improved turn of pace with the fifth fastest time ahead of teammate Pastor Maldonado. Nico Hulkenberg, Daniil Kvyat, Daniel Ricciardo and the sister Force India of Sergio Perez round out the top ten.
| | | | |
| --- | --- | --- | --- |
| Pos | Driver | Car | Time |
| 1 | Lewis Hamilton | Mercedes | 1:14.393s |
| 2 | Nico Rosberg | Mercedes | 1:14.702s |
| 3 | Kimi Raikkonen | Ferrari | 1:15.014s |
| 4 | Valtteri Bottas | Williams | 1:15.102s |
| 5 | Romain Grosjean | Lotus | 1:15.194s |
| 6 | Pastor Maldonado | Lotus | 1:15.329s |
| 7 | Nico Hulkenberg | Force India | 1:15.614s |
| 8 | Daniil Kvyat | Red Bull | 1:16.079s |
| 9 | Daniel Ricciardo | Red Bull | 1:16.114s |
| 10 | Sergio Perez | Force India | 1:16.338s |
| 11 | Carlos Sainz | Toro Rosso | 1:16.042s |
| 12 | Marcus Ericsson | Sauber | 1:16.262s |
| 13 | Fernando Alonso | McLaren | 1:16.276s |
| 14 | Felipe Nasr | Sauber | 1:16.620s |
| 15 | Sebastian Vettel | Ferrari | 1:17.344s |
| 16 | Felipe Massa | Williams | 1:17.886s |
| 17 | Roberto Merhi | Marussia | 1:19.133s |
| 18 | Will Stevens | Marussia | 1:19.157s |
| 19 | Max Verstappen | Toro Rosso | 1:16.245s |
| 20 | Jenson Button | McLaren | – |