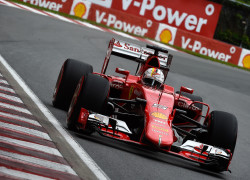 Sebastian Vettel will drop 5 places down the grid ahead of Sunday's Canadian Grand Prix for passing under red flag conditions in free practice three.
Together with the 5-place drop he will be docked three points on his super license.
Vettel qualified in 15th after and MGU-H problem which seen the German eliminated at the end of the first qualifying session. The 5 place drop will see him start at the back of the grid. Ferrari may take advantage of the grid drop and make changes to Vettel's car which may see him start from the pit lane.
The incident in question happened after the second red flag during practice three. Vettel was behind Roberto Merhi in the Manor and passed the Spaniard on the back straight between Turn 12 and Turn13. Vettel argued that he thought the Manor had an issue as it was moving very slow, the stewards felt that a grid penalty was necessary.
Elsewhere on the grid, Toro Rosso's Max Verstappen was handed a 5 place grid drop for his collision with Romain Grosjean at the Monaco Grand Prix, and a further 10 places for replacing an engine and exceeding his allocated engine allowance for the season. Although not confirmed, Jenson Button thinks that he may incur a grid drop after sitting out qualifying due to an ERS issue on his McLaren in practice.
Photo Credit: Scuderia Ferrari Formula 1