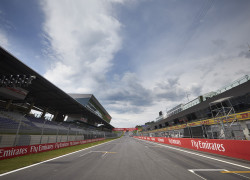 Control is a concept that when given up is difficult to regain. Yet, Nico Rosberg overcame his pole starting teammate and controlled all seventy-one laps for an important victory in Austria.
The multi-lingual German secured his third victory of the season and second consecutive Austrian race win. But for a "vibration" late on in the race the afternoon was smooth as it could be with Rosberg firmly in the lead. This was an important victory for Rosberg to stymie Hamilton's momentum ahead of the British Grand Prix.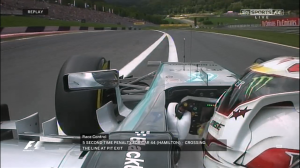 For Lewis Hamilton a supposed issue with the clutch complicated his afternoon. The reigning champion also cut the white line on pit exit for which he was given a five second penalty.
It didn't influence his second position as he brought the number 44 Mercedes home in a rather quiet afternoon.
The Austrian country side is a beautiful vista of mountains and greenery but Kimi Raikkonen probably had enough of it. A communication error on Saturday landed the Finn at the back of the grid and Sunday's race lasted all of three corners before a hefty clash with Fernando Alonso ended his race.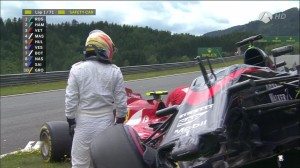 The crash itself was quite strange as Raikkonen appeared to lose rear grip and collected the front of Alonso's McLaren. Some sources suggest that Raikkonen had a rear puncture which contributed to the rear end becoming unstuck but the Finn himself could not pinpoint a specific reason.
Sebastian Vettel fared slightly better and was running third but a problem with a wheelnut cost the German third place as he fell behind Williams' Felipe Massa. The four time champion was able to close the gap in the closing stages but similar to the Bahrain Grand Prix was unable to overtake the Williams. Vettel declared the Williams the most difficult car to overtake after finishing the race in fourth.
McLaren's afternoon only got worse and that in the presence of new Honda managing director Takahiro Hachigo. Jenson Button's McLaren gave up the ghost after only ten laps of which at least six were behind the safety car. Sadly, McLaren's Honda issues have not gotten any better since pre-season testing and its drivers were given a combination of fifty grid place penalties, in Austria, for changing several parts of their power units.
The issue of power unit penalties has been a point of heated contention. Nevertheless, the validity of this particular gripe is mostly unfounded. All manufacturers started with the same set of rules and the reality is that some, namely Merc, did a significantly better job than others. In all probability the manufacturers in Formula 1 would have thought that the second year of the hybrid power unit era would have looked far better in terms of power and reliability. In Renault's case it's showing a significant downturn in performance and reliability. Improvement from year one is possible though as Ferrari has proven. For Honda and Renault the level of frustration is further inflated by penalties but they are a consequence of a much bigger problem.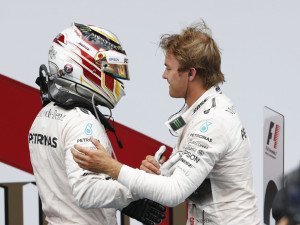 The race up front wasn't as exciting as many would've liked but there were several juicy battles further down the field. For fifth place, Valtteri Bottas duked it out with an inspired Nico Hulkenberg. Bottas ultimately got the better of the tussle but the Force India driver, still on a high from winning Le Mans, put together a brilliant weekend which culminated with a sixth place finish.
The fight for seventh too was an exhilarating scrap between Pastor Maldonado and Max Verstappen. The teenager's never-say-die approach made for a great spectacle but didn't go down too well with Maldonado who felt that the youngster didn't "respect the rules."  Ninth place went to Force India's Sergio Perez ahead of Red Bull's Daniel Ricciardo.
There are many factors which contribute to the current state of Formula 1 not least of all the tyres provided by Pirelli. Daniel Ricciardo was able to run fifty laps on the yellow-walled soft tyres before having to pit. The blame isn't solely on Pirelli but surely a nigh indestructible tyre is not going to add to the showpiece. Even the 2012 and 2013 version of their tyres, which dramatically fell away, would be a welcome return at this uninspiring point. Michelin has announced their interest in becoming the official tyre supplier of Formula 1 with a promise of allowing drivers to push to the limit at all times. It's easier said than done of course but it's clear that, on the tyre front, things have to change.
The start of the 2015 season didn't go to plan for Rosberg who was being summarily spanked by Hamilton. But little by little Rosberg has clawed his way back both on the leaderboard and mentally. With his confidence soaring a ten point gap doesn't seem much at all.
Rosberg Hamilton Photo Credit: Mercedes AMG F1