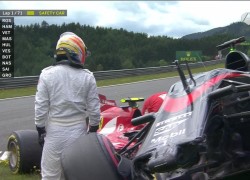 Both Fernando Alonso and Kimi Raikkonen walked away from a very scary first lap collision at the start of Sunday's Austrian Grand Prix.
Raikkonen veered left while accelerating out of Turn 2 and collected Alonso on the way. The Spaniard slid into the barriers before landing on top of the front of Raikkonen's car – the Ferrari carrying the McLaren further along the barriers. Alonso's car narrowly missed Raikkonen's head and both were very lucky to walk away.
"I got some wheel spin and then it just went left, it was a bit of an unusual place as it was a bit higher speed," Raikkonen said.
"The end result is what it is, a really poor weekend, but that's how it goes."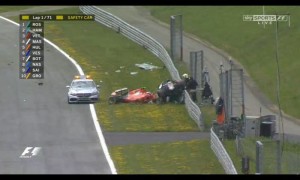 Alonso, who retired for the fourth consecutive race made it clear that they were both very fortunate to not have picked up any injuries in the collision.
"I started very good today, made a lot of places at Turn 1 and Turn 2," Alonso said.
"Kimi was with the Prime time, so he was exiting Turn 2 with a lot of wheel spin, so the car was moving and we were all overtaking him left and right.
"At one point he lost the car to the left, and I was on the left, so we went both on the wall, and I was lucky to not hit him on the head. Looking at the replays I was braking but my wheels were in the air, so I was close with him, but luckily we are both fine."