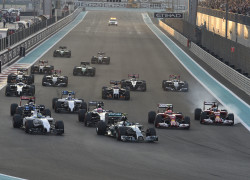 From Australia to seventeen different cities and circuit Formula 1 makes its final stop of 2015 at Abu Dhabi's Yas Marina circuit.
The first race around the visually stunning circuit was held in 2009. It remains unique to the F1 calendar for its twilight start and in its six grand prix has delivered dramatic outcomes and significant duels that are hard to forget.
In its first year on the calendar Jenson Button arrived already crowned as champion after a dominant season in his blindingly quick Brawn. While Sebastian Vettel was up the road and on his way to victory a late race scrap between Button and then Red Bull driver Mark Webber is what truly ignited the first-ever season finale in Abu Dhabi. Not far out from the chequered flag Button pitted for a new set of tyres and proceeded to close down second-placed Webber at a blinding pace. The newly-crowned champion gave it his all to overtake the Aussie and though it wasn't to be it still produced an exhilarating and memorable wheel-to-wheel battle. "I was giving everything to take second place from Mark," said Button, "but I couldn't quite make the moves stick. He's a very difficult guy to overtake but it was a good clean fight and we were really on the edge.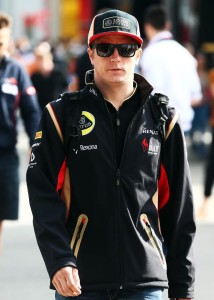 Since this 2009 duel the Abu Dhabi circuit has crowned Sebastian Vettel champion on two occasions in 2010 and 2013. In between Kimi Raikkonen won a memorable race for the Lotus team which is remembered for the now famous radio message of "leave me alone, I know what I'm doing." Coincidentally, Raikkonen's famous victory was the only time a driver has won this grand prix after not starting on the front row of the grid.
Sebastian Vettel isn't the only world champion that has been crowned at the season-ending race either. In 2014 Lewis Hamilton was crowned with his second driver's title after a season at the wheel of the absurdly dominant Mercedes. "Last year, this place brought probably the most intense weekend of my life," recalls Hamilton.
Twelve month on Hamilton arrives in Abu Dhabi a triple world champion but still with something to play for. A 50th pole position is in the offing if the Brit can recover his qualifying mojo. Recently, teammate Nico Rosberg has well and truly had the beating of Hamilton on Saturday and stands on the cusp of joining quite an elite group. Should the German secure a sixth consecutive pole position he will join a list of only four drivers who has achieved this feat in the sport.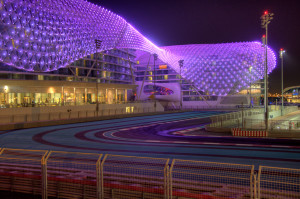 As far as the Yas Marina circuit layout goes it isn't the most technically challenging on the calendar. Instead, the layout is mostly dominated by medium speed corners and long straights. "The first sector is generally medium speed with a couple of high speed corners and not too technically challenging; a reasonable level of downforce works fine here. The second sector is more power hungry with two good straights and two low speed corners – a low speed hairpin and a low speed chicane so it's important to manage these well. The final sector is quite technical with a number of low and medium speed corners where the car needs to be well balanced and work well to achieve a good lap time," explains Lotus technical director Nick Chester. "Putting all that together is key – you need a car that works well in low speed corners and be good in the long straights."
In 2015 the United Arab Emirates is celebrating its 44th national day. It is a day which marks the unification of the seven emirates and the founding of the country. It could be just per chance that it matches Lewis Hamilton's number 44. Or is it a sign that the three-time champ is set to light up the Abu Dhabi grand prix?