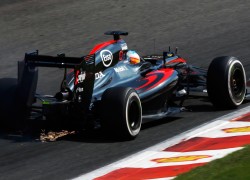 Both Fernando Alonso and Jenson Button are expected to drop 10-places on the grid after McLaren plan another engine change to fit their 9th engine ahead of the race on Sunday for the Italian Grand Prix.
This comes after McLaren performed a double engine change in Belgium a fortnight ago which resulted in a total 105-place grid drop for the team. This engine change will mean that both McLaren drivers will have three engines a piece to use without penalty for the remainder of the season.
Alonso will take his 9th engine which will drop him 10-places down the grid while Button will only drop 5-places after taking his 9th engine. The reason for this is that the rules state that a driver will drop 10 places for the first of new components that are used beyond the allocated number. This will be Alonso's first 9th component (engine) which drops him 10-places. Button on the other hand has already taken a 10 place drop for his 9th turbo and MGU-H, hence the 5-place drop.
This move from McLaren was purely strategic and it was in no way related to any technical faults.
Both drivers are expecting a difficult weekend with the MP4-30 down on power compared to the other cars on the grid. With them being at the back of the grid will not hurt their progress throughout the weekend that much.
Elsewhere on the grid, Red Bull Team Principal Christian Horner has confirmed that both their drivers, Daniel Ricciardo and Daniil Kvyat will drop 10-places for taking their first 6th element of a new power unit.
"We'll be taking a penalty this weekend with both cars, which will be power unit six," Horner confirmed to AutoSport.
"We're out of mileage on the units we've got, and we need to do what we can to get to the end of the year.
"We've decided to take it tactically at Monza because it's a track where you are flat out for 75 per cent of it, so of course it's not going to be our strongest circuit of the year."