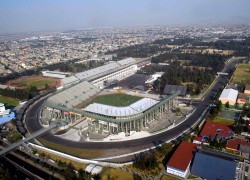 Formula 1 returns to Mexico after 23 years to the Autodromo Hermanos Rodriguez in Mexico City for round 17 of the Formula 1 World Championship.
The 4.304km track is situated within a park in Mexico City, Mexico and its named after two famous Mexican racing drivers, Pedro and Ricardo Rodriguez. The circuit has hosted many rounds of the Formula 1 World Championship after its inaugural race in 1962. There have been a few upgrades to the facilities around the circuit until the latest update which seen renowned F1 track designer Herman Tilke, lend a hand.
Tilke's redesign includes a new pit paddock and some modifications to the circuit layout. The "snake" section has been incorporated although modified somewhat. There's a new stadium section where the track passes through. This will be the slowest section of the track but it will provide the fans some great views of the cars and possibly some overtaking maneuvers.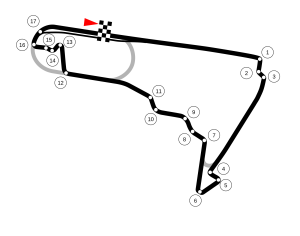 What also makes this circuit unique is that it is a high altitude circuit. At 2 285m above sea-level, this is the highest track on the F1 calendar in terms of elevation. This does present a problem to the engines as the thin air puts a dent in the power output of the engine. High altitudes, however, affect naturally aspirated engines much more than turbo charged engines.
With the championship and constructors trophies all wrapped up by Mercedes, the attention turns to 2nd and 3rd in the respective championships. Ferrari look to have 2nd place in the constructors all in the bag, but Sebastian Vettel needs to put in some good performances to finish 2nd in the drivers championship. He only leads 3rd place Nico Rosberg by 4 points. With the fast nature of the circuit, it will be quite suited to the Mercedes cars which will make things a little tougher for Ferrari.
With the race in Mexico, the times will be very similar to the race in Austin, Texas.
All times are GMT+2
| | | |
| --- | --- | --- |
| Free Practice 1 | Friday | 18:00 (10:00 LT) |
| Free Practice 2 | Friday | 22:00 (14:00 LT) |
| Free Practice 3 | Saturday | 18:00 (10:00 LT) |
| Qualifying | Saturday | 21:00 (13:00 LT) |
| Race | Sunday | 21:00 (13:00 LT) |