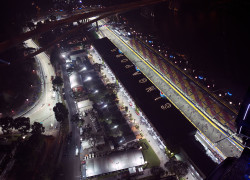 The start of the second round of the fly-away races takes us to the Marina Bay Street Circuit in Singapore for Round 13 of the Formula 1 World Championship.
The 5.065km track with 23 corners, the most of any circuit this season, winds its way along the streets of Marina Bay in Singapore. The race is regarded as one of the toughest and most grueling races on the F1 calendar. The humid conditions makes it especially tough on the drivers who have to navigate the street circuit, which takes maximum concentration 100% of the time. The race is also quite long, lasting the full 2 hour allocation if a safety car period lasts for a long time or if there are multiple safety car periods. With it being a street circuit the safety car probability is very high.
Apart from the pit-straight and the pit building complex and pit grand stands, the rest of the track is a street circuit. The track is not as narrow as the streets of Monaco and overtaking is possible into Turn 1 and on the run to Turn 7.
There have not been any major changes to the layout to the circuit since its inaugural race in 2007. In 2013, the famous left-right-left-right Singapore Sling chicane was changed to a simple left handed corner(Turn 10) with a faster entry speed.
Earlier in the year, the FIA approved changes to the circuit from Turn 11 till Turn 13. Drivers will now kink left before turning left at Turn 11. The profile of Turn 12 was also changed and the drivers will exit Turn 12 on the left of Anderson Bridge. Turn 13 has been widened by 1 metre to allow for overtaking.
With the race and practice session being held in the evenings and at night, European broadcast times are favorable. All times are GMT+2
Free Practice 1: Friday 12:00
Free Practice 2: Friday 15:30
Free Practice 3: Saturday 12:00
Qualifying: Saturday 15:00
Race: Sunday 14:00
Photo Credit: Wikimedia Commons