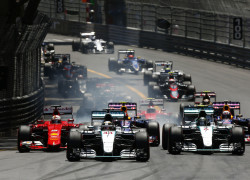 What can be said about the Monaco Grand Prix that has not already been said before. It's the one event that sums up the glamorous life of F1 in the early days. Things have moved on since then but it still remains the Jewel in the Crown of Formula 1.
The Monaco Grand Prix is run on the 3.337km Circuit de Monaco. The track has undergone 5 changes to the layout we currently race on. Ask any driver and he'll tell you that it takes extreme levels of concentration around the track for an entire race. With little run off areas and with tyre's sometimes millimeters away from the barriers one can easily see that a split second lapse in concentration can put you out of the race.
The safety car is guaranteed at the race. If not at the start for Turn 1, there will be something happening in the middle of the race. Overtaking is usually limited at the circuit with a few overtaking chances around the circuit. But that does not stop the drivers from trying.
The new ultra soft tyre will make its debut for the 2016 season together with the super soft and the soft tyre. Teams's tyre choices have leaned towards the ultra soft tyres. The circuit. with slow corners and low degradation, is very kind to the tyres and it is expected that a one stop race will be the best strategy.
Teams will run as much down force as their setups allow. The slow corners make the circuit a rear limited track which means the drivers will depend heavily on mechanical grip from the tyres out of the corners.
| | | | | |
| --- | --- | --- | --- | --- |
| | CDT | GMT+2 | GMT | Local |
| Free Practice 1 | Thursday 05:00 | Thursday 10:00 | Thursday 08:00 | Thursday 10:00 |
| Free Practice 2 | Thusday 09:00 | Thursday 14:00 | Thursday 12:00 | Thursday 14:00 |
| Free Practice 3 | Saturday 06:00 | Saturday 11:00 | Saturday 09:00 | Saturday 11:00 |
| Qualifying | Saturday 09:00 | Saturday 14:00 | Saturday 12:00 | Saturday 14:00 |
| Race | Sunday 09:00 | Sunday 14:00 | Sunday 12:00 | Sunday 14:00 |