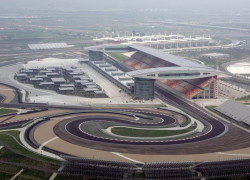 Nearly a fortnight ago the world of Formula 1 was given a little shake up by Ferrari. People who were jeering Vettel at Red Bull were cheering him on after he won the Malaysian Grand Prix. The dominant Mercedes F1 Team were, for the first time in 20 races, a bit shaky and uncertain at times.
Things have calmed down since then and both Mercedes and Ferrari have had time to calm down and digest the data from Malaysia. Mercedes are certain that they can raise their game and have even brought a few updates forward to take the challenge to Ferrari. They are talking up their chances ahead of this weekends Chinese Grand Prix saying things like the Shanghai track is front limited and that the temperatures will be vastly different to the scorching temperatures they experienced in Sepang.
Ferrari on the other hand say that they will not get ahead of themselves and they'll keep their heads down and continue to work at it. There seems to be a quiet confidence coming out of Maranello at the moment which has caught everyone in the paddock off guard. Ferrari have played down their chances for this weekend saying that they do not expect to be as strong as they were in Malaysia due to the cooler temperatures. Kimi Raikkonen has come out and said that the SF15-T is competitive in any type of track conditions. What ever it may be, we are in for an interesting weekend.
After both their cars retired from the race in Malaysia despite showing some good pace, McLaren are not expecting to show the same pace as in China. "I don't think our car package will be as well suited here as it was in Malaysia, especially if the weather is as cold and windy as it usually is in early springtime in Shanghai," said Fernando Alonso.
The battle of the Red Bull teams will continue this weekend with the sister Toro Rosso team looking keep up their very good early form. Red Bull who have been very vocal about their Renault power unit are looking to put in a good performance this weekend but with a track that favors engine power, things may be a bit tough for the Milton Keynes based team. It does seem that Red Bull and Renault have put their differences aside and are not working together to get their engine up to the level of Mercedes.
However the weekend may go, we go into this F1 weekend uncertain as to who will win and that is not a bad thing at all.
Below are your broadcast times for the 2015 Formula 1 Chinese Grand Prix. All times are GMT+2
Free Practice 1: Friday 04:00
Free Practice 2: Friday 08:00
Free Practice 3: Saturday 06:00
Qualifying: Saturday 09:00
Race: Sunday 08:00