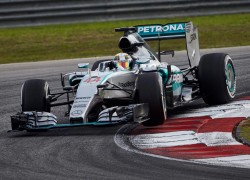 Following their defeat in Sepang, Mercedes says it has assessed every aspect of the Malaysian Grand Prix in order to ensure that the team overcomes the threat posed by Ferrari.
Mercedes team boss Toto Wolff says that the team left Sepang with a whole lot to think about and saw Mercedes realise that Ferrari can indeed pose a threat for the entire 2015 F1 season. They are however ready to up the stakes and raise their game. According to Wolff, Mercedes are ready to bounce back and look forward to reclaiming the top step of the podium at the Chinese Grand Prix this coming weekend.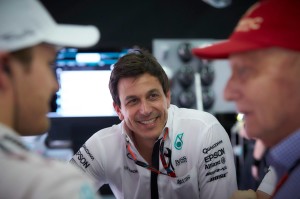 "We left Malaysia with plenty to think about," Wolff said. "It may have been a good result for the sport – but for us, it was a wake-up call. This is something you cannot afford to happen often and, although we had two cars on the podium, we have been looking very carefully at every area where we could have performed better.
"Our opposition has raised its game and we must now raise ours even further; as we have said since Melbourne, we expect a season-long battle for both world championships and we must maximise every opportunity. China is the next chance to do that – a circuit which has been a good hunting ground for the team.
"Lewis [Hamilton] has a great record here and for Nico [Rosberg], it's where he made his first step into the winners circle. We have the weapons at our disposal – and we need to make the most of them this weekend."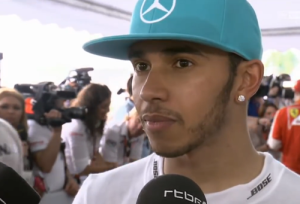 Defending F1 World Champion Lewis Hamilton also said that Mercedes have been working hard on analysing the Malaysian defeat in order to best prepare for the upcoming Chinese Grand Prix. While there is room for improvement, Hamilton is confident in targeting the front of the pack again.
"Malaysia was a tough weekend. It always is with the heat – but with car problems on Friday, rain during qualifying on Saturday and a race which didn't go to plan on Sunday, this one was particularly challenging," Hamilton said. "I think ultimately we made the best choices we could – but there is always room for improvement and we've been working hard to analyse everything for the next race in China.
"The circuit itself is a different challenge to Albert Park and Sepang – but it's one I really enjoy and it suits my driving style quite well. I won the race last year and have only finished outside of the podium places twice, so the target is definitely to build on that and get back to the front."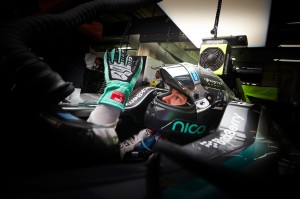 Team mate Nico Rosberg is also eyeing the top step of the podium and fancies his chances on Sunday, especially considering his special history at the circuit.
Shanghai is a great circuit for me. It's where I got my first pole and my first win back in 2012 – my third season with the Silver Arrows. It's not been a perfect start to my sixth year with the team and I'm determined to turn that around this weekend. Of course, my team-mate will have other ideas – and so will my compatriot in the red car, I'm sure. But this is a track that has always suited me well, so I'm aiming to put in a strong weekend."
Technical chief Paddy Lowe pointed out theat tyre management was a major concern for Mercedes following the Malaysian Grand Prix, where Mercedes were unable to match Vettel's two-stop strategy. He also confirmed that Mercedes have a number of new aero developments for Shangai which the team expect will make a big difference to their performance.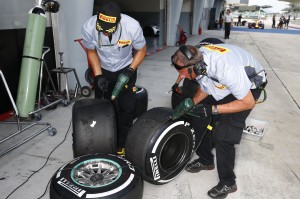 "The most significant weakness was our tyre management during long runs," Lowe said. "Exceptionally high track temperatures – even by Malaysian standards – contributed to this, however it is essential to have a car which performs at all circuits and in all conditions, so there is work to be done on that front.
"China presents a different challenge. Temperatures can vary dramatically year-on-year, but are generally quite low. It's also a front-limited circuit – the opposite of Sepang – with a good mix of corners and a long straight, so it will be interesting to see how the different cars perform at yet another circuit characteristic for this new season. It is now clearer than ever that there is serious competition for this world championship, so we will continue to work flat out for performance gains. We have a range of new aerodynamic developments for Shanghai and are targeting an improved performance from Malaysia."
Photo credits: All photos credited to Mercedes AMG F1