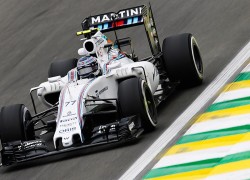 Williams Valtteri Bottas was handed a 3-place grid penalty and two penalty points on his super license for overtaking Felipe Nasr under red flag conditions.
The red flags were brought out after McLaren's Fernando Alonso stopped on track after an engine failure in Free Practice 2. Bottas overtook Sauber's Felipe Nasr between Turn 5 and Turn 6.
After the session he was summoned to see the stewards where he admitted to overtaking Nasr under red flags.
"The driver of car 77 admitted he overtook car 12 under red flags," read the stewards decision document by the FIA
The Stewards in applying the penalty took into consideration that despite the considerable speed difference between the cars, the driver of car 77 could have avoided overtaking under the red flag."
Photo Credit: Williams Martini Racing Formula 1 Team