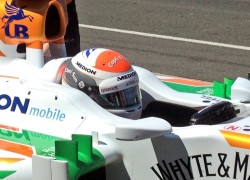 Force India preview quotes ahead of the Abu Dhabi Grand Prix
Paul di Resta, Force India
2012 Qualifying – 13th, 2012 Race – 9th
"We will certainly go to Abu Dhabi to try and repeat the performance (from India). The direction we've taken with the car recently is more of a back-to-basics approach, which has helped. It's given me more confidence and I can be more committed with the car. That's really important for a driver and it will help us for both qualifying and the race.
"I enjoy driving in Abu Dhabi because it's a twilight race and one of the more spectacular events of the year – a bit like Singapore. As a track you don't have to rely too much on aero performance because it's mostly low-speed and that should suit our car quite well."
Adrian Sutil, Force India
2012 Qualifying – n/a, 2012 Race – n/a
"Yas Marina is one of the most perfect tracks on the calendar because there's not a stone out of place! It almost feels like a futuristic venue and with the harbour location it's like a second Monaco. The track layout is not my favourite because it's mostly low-speed, but as an event it's certainly a highlight of the year."