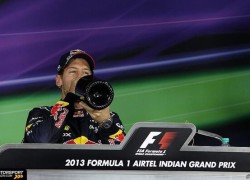 After sewing up both the Driver and Constructors' Championships for the fourth consecutive year, here's what the Red Bull Racing team had to say ahead of the Abu Dhabi GP this weekend.
Sebastian Vettel, Red Bull
2012 Qualifying – DSQ, 2012 Race – 3rd
"The race in Abu Dhabi is one of the highlights of the racing calendar. Starting at dusk and finishing in the dark makes it pretty impressive. I have special memories of the Abu Dhabi GP after winning the first race here in 2009 and then repeating the victory in 2010 to win my first world championship, that was an event I will never forget.
"The circuit is impressive: 5.5 kilometres, 55 laps counter clockwise with large run-off areas and a pit lane that leads through a tunnel to the other side of the straight. A few key points of the track for me are; Turn 1 because it is very difficult to see and is very fast. The last corners, (Turns 20 and 21) must be regarded as one, because you have to exit perfectly from the first to catch the last corner correctly. The trick here is to get on the throttle as early as possible in order to build up enough speed for the subsequent straight."
Mark Webber, Red Bull
2012 Qualifying – 2nd, 2012 Race – DNF
"Racing in the twilight and finishing at night with a spectacular backdrop; the Abu Dhabi GP is a unique event in that sense. The track temperature is dropping during the race which is an interesting point for us, performance-wise, with the tyres. Also we'll have a different visor tear-off for the first part of the race, for the first 10 or 15 laps we'll have a dark tear-off because of the low sun in the last sector, and then when the sun has gone behind the grandstand we can get rid of that tear off and run a clear one for the rest of the race."