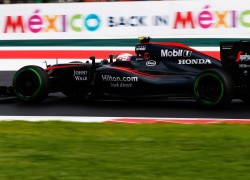 McLaren's Jenson Button will take a 50-place grid at the Mexican Grand Prix race on Sunday.
This is another strategic move from Honda to increase Button's engine pool and to bring the updated Honda engine that was given to Fernando Alonso in Russia.
At the United States Grand Prix, Alonso slipped down the order to finish in 11th place after performance issues with his engine. An investigation by Honda revealed that it was a faulty injector that caused Alonso's performance issues. Honda have now decided to roll out the updated engine to Button's side of the garage.
Before Free Practice 2 on Friday, Button took on his 11th internal combustion engine (ICE), a 10th turbo charger, a 10th MGU-H and 9th MGU-K. He received a 1-place drop for the engine, and a 5-place drop for the turbo, MGU-H, and MGU-K.
After Free Practice 2 McLaren replaced the same components on Button's car, incurring a further 25-place grid penalty.
Although Alonso is currently using the updated Honda Engine, the team decided to give him his 11th of the season, dropping him 10 places down the grid.
Alonso will incur a further grid drop after the team chose to replace his gearbox in the evening.
Elsewhere on the grid, the Manor F1 team received a 200 Euro fine for Alexander Rossi who was speeding in the pit lane.
Force India's Nico Hulkenberg was given a reprimand for crossing the white line on pit entry during Free Practice 1