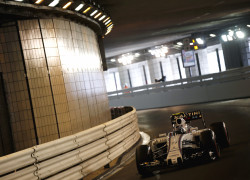 The Williams F1 team say that their lack of pace at the Monaco circuit is specific to the nature of the track and they are almost certain that it will not affect them at other circuits.
The 2015 Williams FW37, much like the 2014 car, suits tracks with long straights and fast corners. The Monaco circuit is the complete opposite to that which is why Williams have struggled for pace the entire weekend. Both Williams drivers also found it difficult to get temperature in the tyres which resulted in a lack of grip.
Valtteri Bottas was eliminated at the end of Q1 after qualifying in 17th. He blamed the lack of grip and traffic but he also admitted that the Monaco circuit does not suit the Williams.
"I had some traffic on my initial option run and couldn't go at the sort of pace needed to keep the tyre temperatures correct, and on my timed lap I just lacked overall grip throughout the lap," said Bottas after qualifying.
"We knew this track was not going to suit our car and we've been struggling to get the tyres to work throughout the weekend."
Felipe Massa echoed Bottas' sentiments: "There were no major issues during qualifying that caused us to be out of position; Monaco just isn't a circuit that suits the characteristics of our car," said Massa.
"We struggled throughout the day and found it hard to set the lap times we wanted."
Head of Performance Engineering at Williams Rob Smedley called it a tough qualifying session for the team. He says that they've made changes to the setup to get more heat into the tyres but it was not enough.
"It was clearly a tough qualifying session for us and we are out of our usual position," commented Smedley
"We have been pouring through the data all week to try and find ways to improve our pace here, and whilst we have made some in-roads, qualifying has just come too soon for us to recover everything.
Photo credit: Williams Martini Racing Formula 1 Team