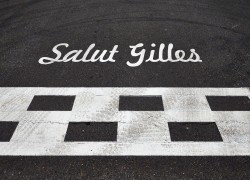 The Circuit Gilles Villeneuve in Montreal Canada plays host to round 7 of the Formula 1 World Championship. A few drivers have fond memories of the circuit while others have not so happy memories. The unpredictability of the weather in Montreal has always made it a tough race to call which leads to some very exciting racing.
The circuit is built on the Île Notre-Dame, a man-made island in the St Lawrence River. There are not many high speed corners which places the emphasis, like Monaco, on the rear of the car and mechanical grip from the tyres. Grip under braking and grip under acceleration is important around the Circuit Gilles Villeneuve. Being a semi permanent facility the track is very "green" at the start of the race weekend. The grip levels do improve but there are some places where grip is still quite low.
Pirelli have chosen the red super soft(option) and yellow soft(prime) compound tyres for the Canadian Grand Prix weekend. The tyre choice is identical to Monaco but speeds will be much higher this time round and energy going through the tyres will be much greater which means that tyre degradation and wear will be different to Monaco.
The weather around Montreal can be quite unpredictable at times but for this weekends Canadian Grand Prix things look a bit more simple. A 40% chance of Showers are forecast for Friday morning and afternoon. This could mean a wet FP1. Although rainy maximum temperatures are to peak in the low 20s.
Saturday and Sunday are clear with lots of sun. Temperatures are forecast to hover in the low 20s with no rain forecast.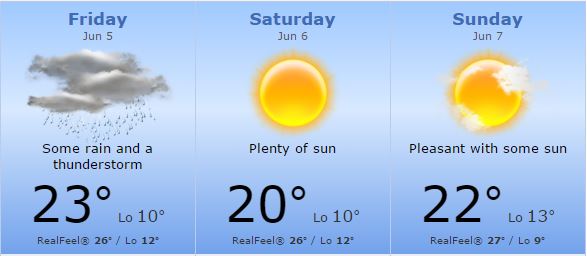 Below is the live forecast for Montreal, Canada. Any changes to the weather will be shown below.