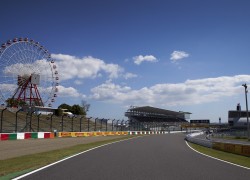 Round 14 of the Formula 1 World Championship brings us to Suzuka, Japan for the Japanese Grand Prix and home to one of the few "old school" circuits on the F1 calendar.
While we see some of the most passionate fans that attend the race weekend, the drivers seem to really enjoy the layout of the Suzuka Circuit. It has the characteristics that the drivers appreciate and enjoy. It's fast and flowing. The Esses in sector one is a series of left-right-left-right-left-right corners where the exit of one corner becomes the entry to another corner. After that, the drivers head very quickly to the Degner curves which is a series if two right and bends each with an increasing radii.
Lets not forget about 130R, a corner which is names after its radius, which is usually taken flat out before braking hard for the final chicane. There have been some heart stopping moments around 130R when some drivers attempt to pass on the outside. Its fantastic to watch.
Because of the high lateral loads Pirelli have nominated the two hardest compound tyres available to them. The white medium compound (option) and orange hard compound (prime) tyres. Some of the corners around Suzuka are the most demanding of the year and the two tyre compounds are the best suited around the track.
With a tropical storm closing in on Japan the weather will be quite unpredictable throughout the weekend. It will be cloudy with some rain forecast for Friday's practice sessions with temperatures hovering in the low 20's. Saturday is expected to be sunny with some clouds around with a low probability of rain. Race day is expected to be clear and sunny with temperatures in the mid 20's.