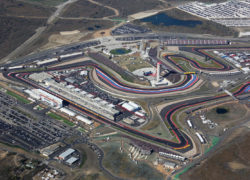 We are in Austin, Texas for Round 18 of the Formula 1 World Championship which takes place at the Circuit of Americas.
The circuit hosts F1 for the 5th time since it made it's debut on the F1 calendar in 2012 and since than has become an instant favorite among fans and drivers. The track, designed by renowned track designer Herman Tilke, takes inspiration from corners around the world and mashes them together and the Circuit of the Americas (COTA) is what we have.
The esses section from Turns 2-8 is reminiscent of the Maggots-Becketts section at Silverstone and with a little bit of the esses from Suzuka. Turns 17 and 18 are taken as one long triple apex left hander which is similar to Turn 8 at the Istanbul Park Circuit. The trademark corner of COTA has to be Turn 1. After a long pit straight the corner rises up into a blind apex left-handed hairpin. It invites the drivers to brake later into the corners and carry more speed, but if you get it wrong you can easily loose a few places.
Last year at COTA the circuit was battered with rain. This year the forecast for the weekend is sunny, clear and warm. Rain does not seem to feature at all this weekend. Temperatures will remain in the high 20s throughout the weekend.