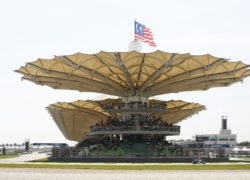 Formula One is just getting settled in for the second stint at the fly away races for the 2016 and Round 16 takes place at the Sepang International Circuit in Malaysia.
The Malaysian Grand Prix has been on the F1 calendar since 1999 and the Sepang International Circuit has played host ever since. The 15 corner, 5.543 km circuit was designed by renowned circuit designer Herman Tilke and it is one of the most technical circuits on the F1 calendar. The 15 corners test every aspect of an F1 car from mechanical grip for the low speed sections, to aerodynamic grip for the sweeping high speed sections.
The circuit has been resurfaced ahead of the race this year. The very bumpy braking zones have been all but eliminated with the new surface. Degradation is also expected to be lower than previous years as a new soother surface gets embedded during the course of the weekend. A few corners such as the final T15 has been re-profiled by raising the inside of the corner by 1 metre. Turns 2, 3, 4, 5, 6, 9, 12 and 13 have also had their gradients altered which changes the line through these corners slightly. Most of the changes were made to improve the drainage and drivability through the corners.
As is expected in Malaysia the weather plays a big role throughout the weekend. Rubber that gets laid down in the morning sessions tends to get washed away by the afternoon thunderstorms. This weekend will be no different. Thunderstorms are forecast for the afternoons from Friday through to Sunday while temperatures will remain in the low 30's throughout the weekend. The humidity will also remain quite high throughout the weekend.