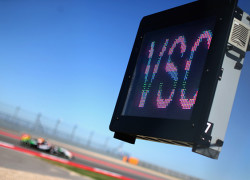 The FIA have finalized the procedures for the new Virtual Safety Car (VSC) system that will be used to neutralize races in 2015.
The VSC was brought about after Jules Bianchi's accident at the Japanese Grand Prix last year where he crashed out of the race with serious head injuries under yellow flag conditions.
The new VSC rules have been integrated into the 2015 sporting regulations and will be used to neutralize a race or "normally be used when double waved yellow flags are needed on any section of track and competitors or officials may be in danger, but the circumstances are not such as to warrant the use of the safety car itself".
Under the VSC rules, drivers are not allowed to enter the pits except to change tyres, this means that stop-and-go penalties may not be served during the VSC period. Drivers will have to stick to a minimum delta time set by the FIA in each sector. To ensure drivers do not drive too slow, the rule makes provision for drivers that drive erratically and "unnecessarily slowly. If a driver is found to breach these rules, a penalty will be imposed. A penalty will also be imposed for drivers who do not stick to the delta time.
Once the race director is satisfied and it is safe to resume racing, teams and drivers will be notified via the official lighting system. Once the notification is given, a green flag signal will be given on the FIA light panels. Drivers can continue to race from that point on.