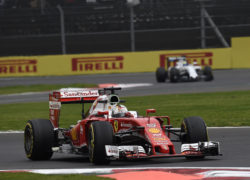 Sebastian Vettel finished the second free practice session of the Mexican Grand Prix on top of the time sheets at the Autodromo Hermanos Rodriguez.
Vettel's time of 1:19.790 on the super soft tyres was enough to take his Ferrari to the top spot and keep it there. Lewis Hamilton was second fastest for the session just 0.004s off Vettel's time with a 1:19.794. It was a bit of a surprise to see Mercedes unable to beat the Ferrari during the session.
Hamilton's team mate and title rival, Nico Rosberg ended his session 3rd fastest almost half a second down on Vettel. Rosberg managed a best time of 1:20.225.
Kimi Raikkonen held 2nd spot for a few minutes until he was displaced by the two Mercedes drivers. The Finn managed a session best time of 1:20.448 which made him 4th fastest ahead of Red Bull's Daniel Ricciardo in 5th fastest. Ricciardo finished the session with a best time of 1:20.448. The two Red Bulls were split by Force India's Nico Hulkenberg who set a best time on the super softs to take him to 6th with a best time of 1:20.574. Vertstappen in the other Red Bull ended his session 7th fastest.
Valtteri Bottas was the only Williams that finished in the top 10 for FP2. But as is the case with Williams, they tend to turn their engine down for the practice sessions. Bottas was 8th fastest at the end of the session with Carlos Sainz finishing in 9th fastest.
McLaren's Fernando Alonso rounded out the top 10 with his best time of 1:21.003.
Haas' Romain Grosjean had a truncated session after he suffered an ERS issue just after his installation lap. This kept him out for most of the session but he was back to complete a few laps.
There were no casualties during the session but drivers did report a high degree of graining on the tyres. Slow motion replays confirmed that there was heavy graining on all the tyres. With the colder ambient temperatures, the rapid heating up of the tyres can cause graining and/or blistering.
Danill Kvyat, at the end of the session, report that he had lost power. He was immediately told to pull off to the side and get out of the car.
Ferrari were the big surprise of the session with Vettel putting in a respectable time. The question still remains is how much is Mercedes holding back?
| | | | | |
| --- | --- | --- | --- | --- |
| Pos. | Driver | Team | Best Time | Laps |
| 1 | Sebastian Vettel | Ferrari | 1:19.790 | 47 |
| 2 | Lewis Hamilton | Mercedes | 1:19.794 | 37 |
| 3 | Nico Rosberg | Mercedes | 1:20.225 | 46 |
| 4 | Kimi Raikkonen | Ferrari | 1:20.259 | 37 |
| 5 | Daniel Ricciardo | Red Bull | 1:20.448 | 43 |
| 6 | Nico Hulkenberg | Force India | 1:20.574 | 43 |
| 7 | Max Verstappen | Red Bull | 1:20.619 | 42 |
| 8 | Valtteri Bottas | Williams | 1:20.629 | 41 |
| 9 | Carlos Sainz | Toro Rosso | 1:20.974 | 46 |
| 10 | Fernando Alonso | McLaren | 1:21.003 | 25 |
| 11 | Daniil Kvyat | Toro Rosso | 1:21.193 | 39 |
| 12 | Jenson Button | McLaren | 1:21.198 | 39 |
| 13 | Felipe Massa | Williams | 1:21.326 | 45 |
| 14 | Kevin Magnussen | Renault | 1:21.442 | 39 |
| 15 | Sergio Perez | Force India | 1:21.579 | 41 |
| 16 | Jolyon Palmer | Renault | 1:21.785 | 44 |
| 17 | Pascal Wehrlein | Manor | 1:21.980 | 42 |
| 18 | Marcus Ericsson | Sauber | 1:21.997 | 42 |
| 19 | Felipe Nasr | Sauber | 1:22.037 | 43 |
| 20 | Romain Grosjean | Haas | 1:22.105 | 14 |
| 21 | Esteban Ocon | Manor | 1:22.298 | 44 |
| 22 | Esteban Gutierrez | Haas | 1:22.408 | 33 |
Photo credit: Scuderia Ferrari Formula One