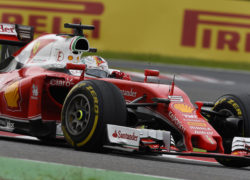 Sebastian Vettel defended Ferrari's strategy decision at the Japanese Grand Prix race which seen him finish 4th, possibly missing out on a podium finish.
While Vettel completed the race with a 2-stop strategy, his was slightly different to the rest. The most widely used two-stop was to start on the softs, then two stints on the hard tyre. Vettel chose to complete his final stint on the soft tyre in the hopes of launching an attack on Mercedes' Lewis Hamilton for the final podium position.
Hamilton pitted on lap 33 for another set of hard tyres for his final stint. Vettel came in a lap later on lap 34. Vettel had emerged just behind Hamilton on the soft tyres to try and gain a few positions. Vettel managed to hang on to Hamilton's tail for a few laps and then dropped off as degradation took hold of his tyres.
Talking about the choice of pit strategy Vettel felt that it was the right thing to do.
"We tried to go on the softer tire in the end, which initially we thought would work well, but then we had too much degradation and we were falling off this group," said Vettel.
"It is always easy to criticize, and I am sure there are many 'experts' that knew better, but on the pit wall as well as in the car, I was keen to go for this strategy so to extend the second stint.
Many felt that Ferrari threw away a podium finish for Vettel and if they had brought him in a lap before Hamilton he would have been able to maintain track position. Things are not that simple in F1, they rarely are. Vettel was heard over the radio complaining about traffic and cars that were not obeying the blue flags. The traffic definitely slowed Vettel down and according to the German he caught up with the traffic at the worst section of the track.
After the race Vettel was calmer and a bit more open minded with his opinion about the traffic.
"It's a fact I lost big chunks of time with the blue flags," added Vettel.
"I always got the lapped cars right in sector one, when they can't move, so I was losing a lot of time, and there's probably where I lost track position to Lewis, who always seemed to clear the lapped cars in the straight. But then the pace wouldn't have probably been enough to challenge for the podium."