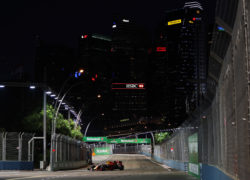 Max Verstappen put his Red Bull on top of the time sheets in the first Free Practice session for the Singapore Grand Prix at the Marina Bay Circuit.
Verstappen set a time of 1:45.823 on the super softs to take him to the top of the time sheets. His team mate Daniel Ricciardo was second fastest for the session setting a best time of 1:45.872 just 0.049s off the pace.
Ferrari's Sebastian Vettel put his Ferrari 3rd fastest with a time of 1:46.287 just a little under half a second off Verstappen's lap time. Vettel was pushing hard early on in the session. He brushed the wall coming out of Turn 20.
Lewis Hamilton and Nico Rosberg finished 4th and 5th fastest respectively. They each shared the fastest time of the session for brief periods until Verstappen and Ricciardo put in their lap times. Rosberg's session ended prematurely as he made contact with the barrier at Turn 18. He sustained front wing damage and a puncture.
6th Fastest of the session was Kimi Raikkonen in the other Ferrari 1.067s off the pace. He was in the garage for most of the session and emerged quite late in the session for his shot at a timed lap.
The Toro Rosso pair of Carlos Sainz and Daniil Kvyat were 7th and 8th fastest respectively. Finishing 9th for Williams was Felipe Massa ahead of Esteban Gutierrez in 10th for the Haas F1 team.
The conditions for FP1 are not representative of the conditions that we will see during qualifying and the race. Free Practice 2 should give us a better indication of where each team stands. Early indications are that Red Bull may have one over Mercedes.
Free Practice 1 Classification
| | | | | | |
| --- | --- | --- | --- | --- | --- |
| Pos. | Driver | Car | Time | Gap | Laps |
| 1 | Max Verstappen | Red Bull | 1:45.823 | – | 25 |
| 2 | Daniel Ricciardo | Red Bull | 1:45.872 | +0.049 | 27 |
| 3 | Sebastian Vettel | Ferrari | 1:46.287 | +0.464 | 22 |
| 4 | Lewis Hamilton | Mercedes | 1:46.426 | +0.603 | 24 |
| 5 | Nico Rosberg | Mercedes | 1:46.513 | +0.690 | 22 |
| 6 | Kimi Raikkonen | Ferrari | 1:46.890 | +1.067 | 20 |
| 7 | Carlos Sainz | Toro Rosso | 1:46.936 | +1.113 | 28 |
| 8 | Daniil Kvyat | Toro Rosso | 1:47.683 | +1.860 | 29 |
| 9 | Felipe Massa | Williams | 1:48.044 | +2.221 | 27 |
| 10 | Esteban Gutierrez | Haas | 1:48.109 | +2.286 | 23 |
| 11 | Fernando Alonso | McLaren | 1:48.202 | +2.379 | 21 |
| 12 | Sergio Perez | Force India | 1:48.214 | +2.391 | 28 |
| 13 | Nico Hulkenberg | Force India | 1:48.359 | +2.536 | 28 |
| 14 | Valtteri Bottas | Williams | 1:48.453 | +2.630 | 26 |
| 15 | Felipe Nasr | Sauber | 1:49.595 | +3.772 | 16 |
| 16 | Jenson Button | McLaren | 1:49.615 | +3.792 | 20 |
| 17 | Jolyon Palmer | Renault | 1:49.794 | +3.971 | 27 |
| 18 | Kevin Magnussen | Renault | 1:50.263 | +4.440 | 29 |
| 19 | Pascal Wehrlein | Manor | 1:51.112 | +5.289 | 23 |
| 20 | Marcus Ericsson | Sauber | 1:51.479 | +5.656 | 16 |
| 21 | Esteban Ocon | Manor | 1:52.379 | +6.556 | 33 |
| 22 | Romain Grosjean | Haas | – | – | 2 |
Photo credit: Red Bull Racing Formula One Team