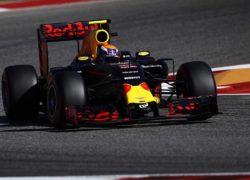 The Red Bulls led the charge for today's third and final practice session ahead of qualifying for the United States Grand Prix.
It was young Max Verstappen who snatched up the top spot with a 1:36.766, 0.226s clear of his Australian team mate Daniel Ricciardo. The Mercedes drivers failed to post any times worth writing home about with Rosberg clocking in just under six tenths of a second slower than Ricciardo.
Rosberg looked pretty quick when he finally headed out on the supersofts near the end of FP3 but bailed out of his lap after encountering a slow Haas F1 team car on a slow lap.
Team mate Lewis Hamilton held station in his garage before emerging two minutes before teh end of his session on super soft tyres. He made it across the lines just in time before the chequered flag dropped but he was caught out by Felipe Nasr in the final sector and also abandoned his lap.
It was Kimi Raikkonen who was third fastest though – 0.518s off the pace. He did run wide at the penultimate corner on his fastest lap though, so there miiiight just be some pace in that Ferrari yet. Not so much for Sebastian Vettel though. He did not set a representative time. Vettel reported a gearbox issue and a sudden loss of power after only eight laps of running and faileld to emerge for the rest of the session.
Nico Hulkenberg finished seventh fastest for Force India with Valterri Bottas lining up behind him on the timesheets. Both McLaren drivers managed times within the top ten with Jenson Button 0.240s ahead of teammate Fernando Alonso.
Sergio Perez was 11th fastest in the second Force India finishing just a dash faster than Renault's Jolyon Palmer in 12th. Felipe Massa was 13th ahead of Daniil Kvyat and Carlos Sainz. The Spaniard had to deal with two punctures during the session – first losing his right rear and then left rear tyres.
Esteban Gutierrez and Romain Grosjean finished 16th and 17th fastest for the Haas F1 team ahead of the Renault of Kevin Magnussen and the two Saubers of Marcus Ericsson and Nasr.
Esteban Ocon finished ahead of Manor team mate Pascal Wehrlein. The German spun into the gravel 17 minutes into the session and beached his car in the gravel, bringing out a ten minute red flag. He'll no doubt be in a spot of trouble after not quite wanting to switch off his car on his engineer's orders.
Qualifying coming up shortly! Join us for some live chat and commentary throughout on Twitter @F1_Madness.