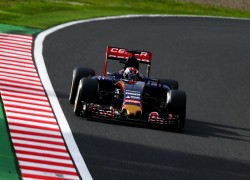 Toro Rosso Driver Max Verstappen will drop three places down the grid ahead of Sunday's Race for the Japanese Grand Prix at Suzuka.
Verstappen broke down in qualifying after suffering a loss of power in his car. He eventually came to a rest after the hair pin with half of his car on the track and the other half of his car off the track.
This was thought to be a clear cut case where due to the fact that Verstappen suffered a power loss which meant that he was unable to gear down and would have steered the car away from any danger.
The stewards, however, found that Verstappen initially steered his car off the racing line to the left and then changed direction to the right, onto the racing line, after which his car came to a stop which brought out the double waved yellow flags.
"Car 33 [Verstappen] experienced a sudden power loss at the exit of turn 11," read the stewards decision document by the FIA.
"The driver initially moved to the left side of the track towards a safe position and when it was about to stop, moved to the right onto the racing line, where it eventually stopped.
" This caused double yellow flags to be shown and endangered oncoming drivers."
Photo credit: Scuderia Toro Rosso Formula One