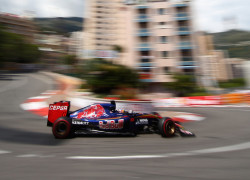 Max Verstappen was given a 5-place grid penalty for the Canadian Grand Prix after his collision with Lotus' Romain Grosjean at the Monaco Grand Prix.
The 17-year old Dutchman, in his first Monaco Grand Prix, was fighting for 10th place with Grosjean when he made contact with the right rear of the Lotus into Turn 1. The resultant contact broke the front suspension of the Toro Rosso and sent Verstappen's car careening straight on into the tech pro barriers at Sainte Devote. Thankfully, Verstappen was able to walk away from the accident uninjured with just a little bit of pain in his arms. Grosjean meanwhile continued racing with little damage to his Lotus and finished the race in 12th position.
After the race, Verstappen placed the blame on Grosjean claiming that the Frenchman braked too early into T1.
"I braked in the same spot like the lap before but he clearly braked 10-15 metres earlier. When it is that close, you have no room. He caught me by surprise.
"I realised at the moment he braked, but by then it is too late because you don't expect someone to brake that early."
The stewards investigated the incident after the race and ruled that Verstappen was to blame for the collision. They decided to hand Verstappen a 5-place grid drop at the Canadian Grand Prix and penalised him with two penalty points on his F1 Super license.
Grosjean, after the race, put it down to a learning experience for the rookie but he does feel that the collision cost Lotus some points.
"I did not see much, just a car suddenly flying past me! I wasn't so happy in the car afterwards, which is understandable," said Grosjean
"Unfortunately, I think he forgot the braking point" Romain continued.
"The move was a bit optimistic, fortunately neither of us were hurt but it cost us a point today.
"He is learning, of course I have made some mistakes in the past so I can understand."