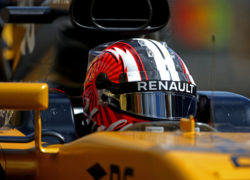 Tempers flared and came to a head between Haas' Kevin Magnussen and Renault's Nico Hulkeberg after the Hungarian Grand Prix race on Sunday.
The animosity between the two started around lap 61 of 70 in the race when Hulkenberg attempted a pass on Magnussen around the outside of Turn 2 at the Hungaroring. Hulkenberg had a good drive out of Turn 1 and was able to use DRS on the run to Turn 2 to pull along side Magnussen. Magnussen decided to get his elbows out and stuck to his line and squeezed Hulkenberg wide on to the grass.
Magnussen was given a 5-second time penalty for his transgression.
During the post race media interviews, while talking to reporters Hulkenberg was seen coming up to Magnussen and said:"Congratulations to the most unsporting driver on the grid".
Magnussen turned around and tersely replied:"Suck my balls, honey!" while Hulkenberg walked away.
While this may seem like an isolated incident Magnussen had the bit between his teeth from the start of the race when Hulkenberg made contact with Romain Grosjean in the other Haas at Turn 1 which forced Grosjean wide. Magnussen commented over team radio that if Hulkenberg could do that [run Grosjean wide], then it was going to be a dirty race.
Magnussen:"Yeah if you can do what Hulkenberg can do to Roman, then it's going to be a dirty race!" #HungarianGP #F1

— F1 Madness 🏁 (@F1_Madness) July 30, 2017
It seems like Magnussen just returned the favor when it his turn came up.
Speaking to NBC, Hulkenberg gave his account of the story: "Hard defending is fine but when he does this, it's just ruthless and sending people into the wall.
"What he did there, opening up the steering, making me run wide, it's just being an a**hole basically."
Hulkenberg added that he would take up the issue with FIA Race Director Charlie Whiting.
Gunther Steiner Backs His Drivers
Haas Team Principal Gunther Steiner backed Magnussen saying that the Dane was right to stand his ground and there was no reason for Magnussen to lift off and cede his position to the Renault driver.
He also questioned Hulkenberg's move on Grosjean at the beginning of the race saying that it destroyed the Frenchman's race and called Hulkenberg a bully.
There will be no love lost between the drivers in a few weeks time after the summer break. Whether they will speak to each other and iron out their differences remains to be seen.