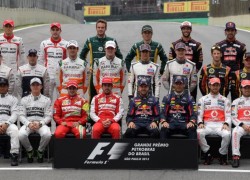 Team and Driver Quotes following the final Formula One race of the season – the 2013 Brazilian Grand Prix.
Red Bull
Sebastian Vettel, 1st
"I don't want to compare the record what we have got today; it's not fair as it was a different time when Ascari was driving. Cars broke down more often then and teams were less consistent, so therefore it's a different type of record that we have got today. For all of us in the whole team we love coming to work and giving it all we have. There's a great spirit and it's sad in a way that the year comes to an end, but that's how it is. I'm sure everyone's looking forward to a break to get the batteries charged and to look forward to next year. My start wasn't so good today, but I was able to get past Rosberg. It was hard to know what was going to happen in today's race. When we came for the second pit stop, it was a late call and then we had to wait for the tyres. We managed to recover with some laps to go. Today was of course Mark's last race. We didn't have the best relationship, but nevertheless we always had respect for each other on a professional level and whatever was going on off-track, didn't make a difference to us on track and we both pushed each other very hard. I certainly learned a lot from Mark. I learned to become a better driver, due to his impressive skills; that's why I consider him one of the best drivers on the grid."
Mark Webber,2nd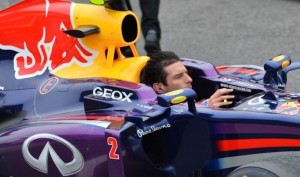 "It was nice to take the helmet off for the final lap. In this sport it's not always possible to give things a personal touch. We have the helmets on all the time, so they fans don't always see a Formula One driver in a car without a helmet. It was nice to get it off and see the marshals and the fans; it was just a really nice thing to experience. I heard a lot of noises that I don't normally hear. The difficult part for me today was actually getting in to the car for the final time. I was overcome with some emotion then to be honest. That moment of the helmet going on and stepping into the car was actually the strongest emotion I've had all day. Then crossing the line and seeing all the guys was great. Christian radioed me and said enjoy the last lap, which I did. I did it as slow as I could; it was a very special day. Seb and I have had our challenges over time and it's easier to have a relationship with Fernando, as he's in another team, but to finish on the podium with those two guys – well, they have been the best of this generation. I have raced them a lot and to finish with those guys was nice for me because it meant a lot, showing that I can drive well at the end of my career and that I got the timing right. Formula One is a sport which I've loved. I could never have dreamt of the career that I've had, the tremendous highs, the tough lows – you know they have to happen and you learn from adversity. The biggest and strongest memories you have are from when you are in the car; it's what we were tuned and trained to do. Driving on the limit is what I was paid to do and what I enjoyed doing. They are the strongest memories you have as an individual at this level."
Christian Horner, Red Bull team principal
"What an incredible way to sign off not only a remarkable season, but also Mark's career in Formula One. It was a fitting way to finish with a one two finish. Sebastian claims yet another record and has driven like a true champion this year to have won thirteen Grand Prix in one season; it's a remarkable achievement and will be very difficult to surpass. For Mark, it was fantastic that he finished his Formula One career on the podium with a really gutsy drive. His moves on Rosberg, Hamilton and twice on Alonso showed what a real racer he is and I'd like to take this opportunity to thank him for the invaluable contribution that he's made to the team, to the four constructors' championships that we have won together and for all his hard work and efforts throughout the last seven years. As he moves on to a new challenge we wish him the very, very best to him and his family for the future."
Thierry Salvi, Renault support for Red Bull
"A perfect way to close the V8 era: winning the Drivers' and Constructors' Championships and all the races since the summer break! Congratulations to all at Red Bull for the sheer amount of work they have done this year and for helping us secure the place of the Renault RS27 V8 in F1 history. Thank you to Mark who leaves us today: we wish him a lot of success in his future role."
Ferrari
Fernando Alonso, 3rd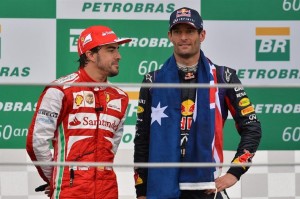 "A podium is the best way to end this long season and finishing behind two Red Bulls almost tastes like a victory, as well as being the maximum we could have done today. It's a real shame that the much awaited rain didn't arrive in the end, because in the wet, we would definitely have been more competitive. I did not get away well at the start and I found myself blocked on the outside and then the inside. However, after catching Hamilton and Rosberg, I began to push and my race was all on the attack. Even if we cannot be fully satisfied with this result, because our aim is always to win, I would view the season in a positive light: we did win and get podiums, as well as finishing second in the drivers' championship and these are figures we can be proud of, both myself and Felipe. He's been a fantastic team mate and even if we continue to see one another in the paddock, I will miss the relationship we have had. I wish him all the best for the future."
Felipe Massa, 7th
"My race began perfectly, with a great start and then a strong pace that allowed me to immediately pull of some nice passing moves and I was having a really great race up until the moment I was given a penalty for crossing the white line. I don't think I deserved a drive-through and I believe it was very unfair. I am very disappointed because today I could have finished fourth or third. I am sure that if I had found myself behind Fernando, he'd have let me pass. However, I don't want this incident to ruin such a special weekend for me and all my team. In their eyes, I am a world champion and I will never forget them, nor anything about my time with Ferrari. I want to thank everyone who gave me this opportunity and maximum support all the time, including President Montezemolo, Stefano Domenicali and all the mechanics and engineers who work at the track and back home, as well as all the Ferrari fans who, over the years, have rejoiced with me and also suffered with me during the most difficult moments. Thank you!"
Pat Fry, Ferrari engineering director
"Today's was a very uncertain race, for which it was difficult to make predictions because of unknowns relating to the weather and tyre behaviour. In the end, it didn't rain and the tyres displayed linear degradation, thanks also to the skilful management of both drivers. The car was well suited to the characteristics of this circuit also in the dry and, but for Felipe's penalty, we could have finished third and fourth. It would have been absolutely deserved because without a doubt today we were the second best team in the field. The team worked impeccably all weekend and I want to congratulate everyone for having tackled such a difficult season with maximum dedication. I am pleased the pit stop guys set the fastest times of the year and that our engineers were able to yet again deliver amazing reliability on the engine front, the systems and all car components, which is a key element when it comes to preparing for next year, for a new season when we want to return to being front runners again."
Stefano Domenicali, Ferrari team principal
"We have ended a difficult season with our heads held high, once again front runners in a Grand Prix that had a bittersweet outcome. Today, we witnessed a very aggressive Ferrari, in a wonderful race for Fernando, while for Felipe it was over when he was handed a penalty, which honestly, I find a bit extreme and forced. Because I don't think Felipe's move gave him any advantage. With the points he could have scored the outcome of the constructors' championship could have been different. However, I was very happy to see the team react and work well here in all conditions. This has to be the impetus to prepare for next season as well as possible and our engineers are aware of the results we want to obtain. The assessment of this season just ended cannot be positive, because after a competitive start, we had a second half that did not live up to our standards, as I have said many times before. Now words count for nothing, but only the work we must do back home: on this topic, I think all the decisions we have taken and the changes we made are taking us in the right direction to tackle next season in the best way possible."
McLaren
Jenson Button, 4th
"For Checo, myself and the whole Vodafone McLaren Mercedes team, today was an incredible day. I'm pleased to have finished fourth: it's almost the podium position that I came here aiming for. We really needed today's result. The 2013 season hasn't been an easy one – it's been tough for all of us at the circuits, but it's probably been even tougher for the guys back at the factory, working flat-out to make parts. They're a really amazing bunch of totally passionate and utterly dedicated people, and they richly deserve the 'lift' that today's result will have given them. I'm also pleased for Checo. He won't be with us next year, but he drove a great race today. Well done, mate. I also want to say a big 'thank you' to Vodafone. Vodafone has been an absolutely incredible title partner, and we've also had a lot of fun together – both on and off the track. Some of the videos they made with us have been truly brilliant. I'm sad to see them leave, but I guess nothing lasts for ever. This is a great way to end the year, and now our focus turns squarely to 2014. McLaren is an incredibly strong and powerful organisation – and, believe me, we will fight back."
Sergio Perez, 6th
"What a contrast today was to yesterday, when we were unlucky to lose five grid positions owing to a gearbox-change penalty, but I think we made a very strong recovery this afternoon. I was praying for heavier rain at the end of the race, so that I could have a go at making up some more positions. But unfortunately I had to save fuel in the final laps, which meant I couldn't really attack Nico [Rosberg] as hard as I'd otherwise have been able to. I've learnt so much from everyone at Vodafone McLaren Mercedes, the best team I've ever raced with, and I wish every single one of them all the best for the future. I wish Jenson and Kevin all the best for the future, too. I think I've grown up a lot this year – both as a racing driver and as a man – and I think I'll be an even stronger competitor in future as a result."
Martin Whitmarsh, McLaren team principal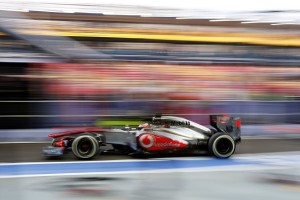 "Undoubtedly, that was our best Grand Prix of the year. It's frustrating to have to say that after a race in which our drivers finished only fourth and sixth, but it's also true. Moreover, the manner in which those results were achieved was heartening indeed: both Jenson and Checo had difficulties in qualifying, through no fault of their own, but the way they charged through the field from their lowly grid slots this afternoon was seriously impressive. It also illustrated very creditable race pace, which was good to see. Having said all that, 2013 been a long, hard and disappointing year. Nonetheless, I want to take this opportunity to pay particular tribute to our trackside mechanics and engineers, who are without doubt the best in the pit lane. That's not only my opinion, by the way; the stats bear it out too.
As of today, McLaren became the first team in Formula One history to have both its cars classified in every Grand Prix during the season. And, also as of today, McLaren completed 99.17% of the season's total possible race distance – 7139 miles [11,488km] out of a possible 7198 miles [11,584km] – which is not only better than every other team managed this season but is also a new world record, beating the previous record of 98.30% set by BMW-Sauber in 2008. Those two stats constitute compelling proof of the fact that our trackside mechanics and engineers possess the three D's in impressive abundance: dedication, determination and discipline. Well done, boys, I'm proud of you. Today, Jenson broke a record, too, becoming the first British F1 driver to start 247 Grand Prix, eclipsing the previous British milestone of 246 set by our old friend David [Coulthard]. And the way Jenson drove today proves that he's as hungry and as competitive as ever he was. Checo also drove a superb race today, surging from nineteenth on the grid to sixth at the flag, and I'm personally delighted that he was able to end his year at McLaren with such a fantastic performance. As I've said many times, he's a fine driver. He's also a lovely guy, and the way he's conducted himself over the past ten days, in particular, in extremely challenging circumstances, has been hugely impressive. He's a class act.
Today we also have to bid farewell to our title and total communications partner Vodafone, after seven seasons in which together we won one world championship, here at Interlagos, in 2008, perhaps the most dramatic denouement in Formula One history, and also scored 34 grand prix wins. Vodafone has been a fabulous partner for McLaren, and has contributed not only funding but also technology. Moreover, our partnership delivered all the marketing objectives that Vodafone had set for it, and gave its clients and customers a lot of fun, too. Finally, I want to say something about the future. Formula One is a relentlessly demanding sport, and next season's new regulations are already presenting all the teams with a daunting array of technical challenges – not only powertrains but aerodynamics, too. For quite some time we've been working extremely hard on those technical challenges and our focus will be unstinting and unwavering from now onwards, throughout the winter. In other words, the 2014 season starts this evening."
Mercedes
Nico Rosberg, 5th
"Today is a great day for the team and to finish in second place in the Constructors' Championship is a huge step forward for us. My thanks to everyone who made our success possible and congratulations to the team here at the track and back at our factories. It was certainly an interesting race today; I had a perfect start but then I struggled a lot with my rear tyres in the opening stint and lost a few positions. We could have cleared Jenson in the pits but it was better for us to be conservative and focus on our battle with Ferrari. I'm so happy that we have achieved our aim and now everyone can look forward to a break and the new challenge of 2014. It's a huge project and there's a lot of work ahead over the winter. I'm very much looking forward to working with the team to put us in the best possible position for next season."
Lewis Hamilton, 9th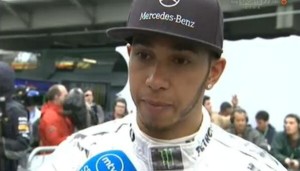 "Firstly, congratulations to the team today for achieving second place in the Constructors' Championship. That result means so much to everyone and I'm so grateful to have been a part of it this year. From my side, it was a tough race today. I don't know what happened exactly with Valtteri and will have to have a look at the replay. I thought that I had moved to the left, he outbraked me and then we touched but it happened so quickly and it was obviously judged that I did something wrong. I was having a good race until that point in fourth place and a podium might have been possible as I was closing on Fernando. That's why I'm so disappointed with my own race but of course I'm delighted for the team. They have done an incredible job this year and really deserve this result. It's the reward for what I know has been many years of hard work and my thoughts are with everyone here at the track and back at our factories at Brackley and Brixworth. We've got so much to look forward to next season so I'll put today behind me quickly and focus on what should be a great year in 2014."
Ross Brawn, Mercedes team principal
"Well, I've certainly got a few more grey hairs after that race! Both cars made fantastic starts but it was soon clear that we hadn't found the sweet spot with the car balance for Nico and he was struggling for rear-end grip. Lewis was stronger in the opening stint and showed good pace before and after his first stop. Our race obviously turned on the two drive-through penalties for Felipe and Lewis. Our drivers had been reporting that Felipe was consistently crossing the white line at pit entry with all four wheels and when the FIA eventually took action, that obviously helped us. Then we had Lewis' unfortunate incident with Bottas and we have to take that one on the chin as we should have kept Lewis better informed of just how quickly the Williams was closing, even though he was a lap down. He then drove strongly after the penalty, especially considering his floor was damaged by the flailing tyre. But the key thing today is that the team secured second position in the Constructors' Championship, even though we made rather hard work of it. That was done on the basis of a very good step forwards and one we made for good reasons. My thanks and congratulations go to everyone at our team for all of their hard work, dedication and commitment. Red Bull have been extremely dominant in 2013, and congratulations to them. But our progress is the first fruits of the technical team we began building two years ago and I am optimistic that the trend of progress will continue in 2014."
Toto Wolff, Mercedes team executive director
"Our target today was to secure second position in the Constructors' Championship; we achieved that target and that's what counts. Ferrari, and Fernando in particular, made life extremely hard for us in the first half of the race and that kept us on our toes and gave us some nervous moments. Lewis' incident with Valtteri was unfortunate; we must be glad that it did not ultimately cost us any positions in the standings and learn our lessons from it. Thank you to everyone at the team, both at the track and at our factories, for their efforts and please keep up the hard work! Congratulations also to Red Bull, who once again showed incredible pace and have set the standard this season. From tomorrow, our attention will be fully focused on 2014 and taking another significant step forward in performance."
Sauber
Nico Hulkenberg, 8th
"It was a good race. I had a good start and nice battles in the first few laps. Then I was by myself for most of the race. The problem today was too much understeer. Because of that the front tyres were ruined pretty quickly, which cost us time. But finishing eighth is a solid result and it puts me in tenth place in the drivers' championship, which I have never achieved before. That is a good feeling."
Esteban Gutierrez, 12th
"Overall I feel positive. It's been a great race and I enjoyed all the fights on track today. I had a good first lap overtaking quite a few cars. We were struggling a bit with the hard tyres in the first stint, but then managed to recover some time with the medium tyres during the second and third stints. So the way we approached everything today was good. It was still quite a challenge to manage the front graining we had and I was doing everything I could to try and compensate for that. All in all I have finished the season with a positive race. It was a season where learning and gaining experience have been the main topics for me, and I feel I did a solid job as a driver to take the next step forward for my performance."
Tom McCullough, Sauber, head of track engineering
"The rain just held off and, as planned, we had a two stop strategy with both cars. With a lot of information that needed to be processed today, our strategy engineer did an excellent job. Finishing P8 and P12 is good, considering where we started from. After a difficult start to the season, we have improved our results in the second half. This was a team effort from everyone at the track as well as everyone back at the factory in Hinwil. They have all been working very hard to improve our competitiveness. A big thank you to everyone involved in that. We start a new era in Formula One, and that is now our immediate focus."
Monisha Kaltenborn, Sauber team principal
"It was a consolidating end to the season, which has been very difficult for the team. However the team has shown its morale in this difficult situation and together we will come back stronger. The foundation for a successful second half of the season was a strong performance from everyone in Hinwil and the race team, which translated into success at the track. The race today was typical of the season: despite a difficult starting point we were able to score four points and, therefore, have a satisfying end to the season."
Toro Rosso
Daniel Ricciardo, 10th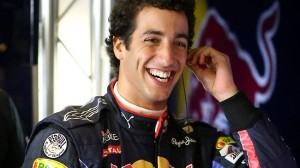 "The conditions were very difficult with the occasional drop of rain. From the cockpit, it's actually quite difficult to judge how much rain there is. You see a few drops on your visor, look at the guy in front of you and if he doesn't go off, you assume it's dry. We were not very quick from the start and I was struggling with cold graining on the front right. We did try and rebalance it during the race, but we struggled in terms of pure pace, so I was quite happy to come away with a point. At midnight tonight I become an Infiniti Red Bull Racing driver, but for now I just want to say thank you to everyone at Scuderia Toro Rosso, here at the track, back in Faenza and at our wind tunnel for two fantastic years. Thanks guys!"
Jean-Eric Vergne, 15th
"Catastrophic starts for both Toro Rossos today and after that, I had a car that was very difficult to drive. I know it's the same for everyone as it was the first time we ran here in the dry, but the balance of my car just wouldn't allow me to push. It improved in the final two stints but it was a real struggle. As for the incident with Maldonado, I came up the inside of him at Turn 1 and he didn't leave me any room, so we touched and he spun. This season has had more bad times than good ones for me, but we are all determined to work very hard over the winter to start next season with a better car."
Franz Tost, Toro Rosso team principal
"Our race was compromised immediately off the grid as both cars got poor starts. This cost us most of the benefit of yesterday's very good qualifying result. We therefore had poor initial pace, dropping down the order and it was worse for Jev than for Daniel. We decided to take Daniel out of traffic quite early, ignoring the risk of rain and he then made up some ground. In the middle of the race, everyone was holding off making the final stop because of the threat of a wet track, at which point Daniel's tyres had done a lot of laps. He managed this situation very well and we made an early stop which got him ahead of a couple more cars, after which he looked after his tyres well enough to take the point for tenth, with both Force Indias' and a Sauber behind us. After Jev got stuck in traffic following the start, he also complained about car balance and we only got him out of traffic for the final two stints, when his times improved to a similar level to his team mate's. It's nice to end the year with a point, even if we had been aiming for rather more than one at the start of the day."
Force India
Paul di Resta, 11th
"The light rain made for quite a tricky race, but it was also enjoyable with lots of overtaking. Losing six places off the line with too much wheelspin was a key moment and really put us on the backfoot, but the performance of the car in the race was consistent and we achieved the two-stop race. We chose to extend each stint but I struggled for performance on the hard tyre at the end and I wasn't able to challenge Ricciardo for the final point. However, I think we can go away from here quite satisfied with what we achieved today and with the year as a whole. Although I missed out on a top ten position in the championship, it's been a successful season, an incredible journey and I want to say a massive thanks to the team for the job they've done this year."
Adrian Sutil, 13th
"It was quite a challenging final race and I was really hoping for some points, but it just wasn't possible today. It was drizzling with rain for most of the race, but I felt quite sure the track was going to stay mostly dry. The main issue for me was the tyre wear because we had to stop three times and that made it hard to race for points. In the final laps I was catching the train of cars ahead of me, but I didn't get close enough to change my position. It's been an up and down season, but I will remember the positives and the fact the team is once again in sixth place in the championship, which is a great effort by everybody."
Robert Fernley, Force India team deputy team principal
"Although we missed out on points today, we achieved the objective that we set ourselves coming into the weekend to defend our sixth place in the championship. In the end we did that quite comfortably, which is a real credit to everybody at Sahara Force India. It means we've finished in the top six twice in the last three seasons, consolidating our reputation as being the best non-manufacturer team. I thought Paul and Adrian both drove well today, although the ground Paul lost at the start proved quite costly. His race pace was good on the two-stop strategy, but the final point was out of reach. Adrian suffered more with tyre wear and had to stop three times. Looking back on the season as a whole I think we can be proud of our performance. The start of the year was exceptional and we recaptured our form in the final few races. We look forward to the challenge of 2014 and will come back determined to pick up where we left off."
Lotus
Heikki Kovalainen, 14th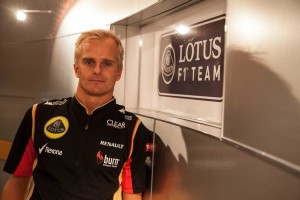 "It has been a great opportunity to drive for the Lotus F1 team and I'm upset that I was not able to score any points for them today. I think the car is great, but I was not able to unlock the pace and make the most of it. I made some mistakes – probably through lack of routine – but I was anticipating it would be easier to come back and race competitively. My starts both here and in Austin were really poor, with procedural issues both times meaning I wasn't able to keep pace with everyone off the line. That was disappointing as it's such a big part of the race and it's very difficult to recover positions. I'd like to thank everyone at Lotus F1 team for all their support during these two races."
Romain Grosjean, DNF
"At this point in the season I think everyone needs a holiday, but apparently my engine decided to go on vacation early! Of course, that's not the way we wanted to end the year but it's been a fantastic season for the team and I think we can be really proud of what we've achieved together. We've proven this year that we are a top team, and I'm certainly proud of all the guys in the garage and back at Enstone. Today was obviously disappointing for everyone as they deserved more from this final race after all their hard work, but now it's time to get a little bit of rest and then focus on making sure we head into 2014 and the new regulations as one of the top teams once again."
Eric Boullier, Lotus team principal
"Clearly this is a disappointing way to end what has been a strong season for the team in often difficult circumstances. Our goal at the start of the year was to improve on last season's fourth place in the constructors' championship, and although we may have just fallen short of that target, it has certainly not been through a lack of effort. Fourteen podium finishes and 315 points is a commendable improvement on our 2012 performance, and I am extremely proud of everyone who has worked so hard to keep us right at the front of a very competitive pack until the very last weekend of the season. In Kimi and Romain we have had one of the strongest line-ups on the grid, and I would like to congratulate them both on some fantastic performances throughout the year. From Kimi's memorable win at the opening race to Romain's recent run of podium finishes, they have both been superb. It's going to be a busy winter preparing for the challenges of 2014, but for now we wish everyone a good few days of well-earned rest."
Alan Permane, Lotus trackside operations director
"After the season we've had with the E21, it's hugely frustrating that we were unable to give what has been a fantastic car the send-off it deserved. For Romain in particular – who has barely put a foot wrong over the past couple of months – we feel particularly aggrieved after his early retirement. We'll be looking into what happened with his engine to see exactly what caused such a significant failure, as generally speaking our reliability has been pretty strong all year. After a poor start it was always going to be difficult for Heikki to climb back into the points, but we're nonetheless disappointed to come away from this weekend with nothing on the board. We now look ahead to the challenge of 2014 aiming to maintain the momentum of the past two seasons."
Ricardo Penteado, Renault Sport F1 team support leader
"Today was the last race for the V8s and unfortunately Romain's gave up before the end. We saw a massive drop in oil pressure in the data but we won't be sure of the exact reason until we get the car back; it could be cause or consequence. In any case it caused the engine to seize and explode in a spectacular way, so we'll investigate thoroughly to analyse exactly what lead to the failure."
Williams
Pastor Maldonado, 16th
"We were fighting hard today with the cars around us but the pace wasn't quite in the car to be able to challenge for the top ten. We lost some time in the pit stops today and ultimately we couldn't recover the places. It's been a great three years with this team, I had a nice moment with Frank and the team this morning and they will stay in my heart forever."
Valtteri Bottas, DNF
"Unfortunately we had to end the season without finishing the race today. We seemed to be struggling a bit with the prime tyre but once we put the option tyres on we seemed to be able to catch the cars in front. We had an incident with Hamilton where I tried to keep my line overtaking on the outside and we touched. It's disappointing to end the season like this but a points-finish may have been too much for us today anyway."
Xevi Pujolar, Williams Chief race engineer
"We planned a two-stop strategy with both cars today starting on option tyres. Valtteri pitted as planned for prime tyres but we extended Pastor's first stint as there was a chance of rain in the early stages. As the forecast changed we brought Pastor in for another set of options, but in the lower temperatures today both cars were struggling for pace so couldn't really fight. We continued on plan, whilst continuing to watch the weather, bringing in Pastor to switch onto the prime tyres with Valtteri back on the options for the final stage of the race. Unfortunately, Valtteri's race ended early as he retired at Turn 4 after losing his left-rear wheel when Hamilton made contact with him. Pastor then had a spin whilst racing Vergne and eventually finished in 16th."
Laurent Debout, Renault Sport F1 team support leader
"Unfortunately we could not end the V8 era and our partnership with Williams in the way we would have liked but we can still hold our heads high. After a difficult start to the year everyone at Williams and Renault worked hard to come back and we showed a lot of form in the second part of the year. We've enjoyed our two years together immensely and wish the entire team all the best for 2014. We look forward to a clean fight on track!"
Marussia
Jules Bianchi, 17th
"Well done to everyone in the team on a fantastic season and the well-deserved tenth place in the championship. Thanks for all the hard work and dedication to providing us with the best car possible right until the end. Today, I got a fantastic start once again and the opening lap was strong, but a few laps in I struggled with some graining on the medium tyre and it was really tough to drive round this, which caused me to have to yield the place. I knew it was all about the long game and just sticking with it, knowing that the balance would be much better on the prime hard tyre. I dug in and drove as fast as I could on the next two stints to make as much progress as possible and it is nice that not only have we got tenth today but we finished ahead of Caterham again. This has been a very important and rewarding year for me personally and I can't wait for us to take that to the next level together in 2014."
Max Chilton, 19th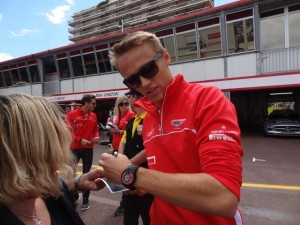 "It was hard finding our way today having only driven in the wet all weekend. We had just the sighting laps to the grid to make a few changes in order to try to optimise the dry balance as best we could. The middle part of the race was quite nail-biting with the constant threat of rain, but I knew that all I had to do was keep going and be ready for any scenario, especially with the weather. In the last stint I struggled with a vibration on front left tyre, which was really costing me time and that is why we pitted for an unscheduled third stop. I would like to thank the whole team for a brilliant season, with particular credit to my car crew. I am really proud of my record-breaking nineteen finishes in nineteen races and this is the result of a fantastic team effort."
John Booth, Marussia team principal
"Although we have held on to tenth place in the championship all season, we still had to cross the line at the season finale in order to get the job done. The Brazilian Grand Prix is renowned for being one of the most chaotic races on the calendar and so we needed to have our wits about us throughout the full 71 lap race, especially as there was the constant threat of rain. Although we encountered a few light showers, the way the race eventually panned out meant that no one was going to challenge our position today. This has certainly been a character-building season. At the beginning we had a clear advantage over Caterham, then we lost some ground during the middle part of the year. Over the final long-haul phase we have pushed extremely hard, caught up and enjoyed some proper racing with them, with our performance in Austin last weekend underlining our continued progress and providing the perfect prelude to the finale here. With zero dry running before going to the grid, today was a tough ask of our two young drivers, who have never driven at this circuit before and had to go out there and be on it from lap 1. They were improving at every stage of the race and towards the end, in very damp conditions, Jules was running exceptionally well on the prime tyre and pulling away from Van der Garde. Credit to the whole team – both trackside and back at base in Banbury – for an incredibly hard-fought 2013 campaign. Well done to both Jules and Max, who have performed admirably in a tough rookie season, having more than risen to the challenge. Congratulations must also go to Max for his fantastic record of 19 finishes in 19 races, which is a testament to his skill and the team's fantastic reliability record. Finally, today's result is about the whole package, and so credit to our powertrain partners, Cosworth and Xtrac, with whom we have worked for four rewarding seasons, as well as our team partners and suppliers who have shared the journey with us."
Caterham
Giedo van der Garde, 18th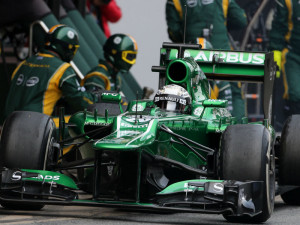 My start was really good, I passed my team mate and was fighting with Bianchi through turn one, but had to lift slightly to avoid one of the Force Indias which let Jules through. The car felt good at that point so only a couple of laps later I was past him and immediately put clear air between me and him, pushing on to Kovalainen ahead in the Lotus. We went until lap 24 on the first set, at one point running as high as 14th, but the main aim was to put a gap between us and the Marussias, and when I re-joined on another set of mediums we had the gap up to about seven seconds. My second set of tyres weren't performing as well as the first and about halfway through the planned second stint I was given the command to change positions with my team mate. That set of mediums had started to go off but with the possibility of more rain coming we had to stay out. We were still pulling away from Bianchi which meant we were covering his plan, but it was a struggle to keep up the pace we needed on those tyres as they were pretty much gone by lap 42. The second stop was on lap 47 when we went onto the primes. I came out ahead of Bianchi again but had to serve a drive through a few laps later which put me about 15 seconds behind him. I was pushing really hard and closed the gap a lot, down to seven seconds by lap 65 but that was as close as I could get. It's obviously not how I wanted the season to end, but I think, overall, I've learnt a lot. There have been quite a few highs and a few lows but this is a great team, a good group of people who work so hard and are determined to succeed, just like me."
Charles Pic, DNF
"My start wasn't great but by the end of lap five I was past Bianchi and closing the gap to my team mate. We put in a long first stint on the mediums with one eye on the rain that could have come, and boxed on lap 25 for another set of options, coming out clear of Bianchi which was obviously the first target. My pace in the second stint was good – the car felt great and Giedo and I switched positions just after the halfway mark as I was on a different strategy and pace to him at that point. My lap times on that second set were good – running in the 1.18s which was close most of the midfield, but at that point it was all about hanging on to see if the rain would come. The tyres held up really well and I was in seventeenth when the rain was just starting to fall a little more heavily, but then, on lap 58, there was a suspension problem on the car and that was the end of the race for me. It's obviously a real shame that my race ended like that as the plan was working well and if the rain had fallen harder we'd have been in a really strong position, but sometimes it's like that."
Cyril Abiteboul, Caterham team principal
"It's obviously disappointing to finish the season like this and to end in eleventh place in the championship. We started with last year's car which was slower than our rivals for the first three races and it was in the second race in Malaysia that we lost the tenth place that we then ended up chasing all year. It's particularly frustrating because our development strategy paid dividends in terms of outright pace from Bahrain onwards, but we had to balance our 2013 campaign against the need to focus on 2014 and that was always going to be a challenge. Despite the position we ended up in I want to thank the drivers and the whole team for the work they put in this year. We have experienced people in every department and a lot of young talent throughout the team, on track and at Leafield, and everyone in the team needs to be thanked for their hard work throughout 2013. Our shareholders and our partners have continued to support us unequivocally and the investments they continue to make, in infrastructure, resources and, most importantly, people, put us in a good position for the future. Now we'll regroup, recharge and come back fighting in 2014 in an all new Formula 1."
Pirelli
Paul Hembery, Pirelli motorsport director
"The fact that there was no dry running prior to the start of the Grand Prix meant that formulating the right tyre strategy was a matter of educated guesswork for all the teams. And with no rubber having been laid down on the track previously, it was extremely hard to calculate the wear and degradation levels. The weather forecast remained uncertain throughout the race to complicate matters even further, with different teams interpreting the information in various ways. However, they had to bear in mind their obligation to run both compounds if conditions stayed dry – which turned out to be the case. This race has marked the end of an era and now the cars, along with the tyres, change completely for next year. Congratulations to Sebastian Vettel and Red Bull for a record-breaking season, and best of luck for the future to Mark Webber, who ends his distinguished Formula One career here in Brazil."