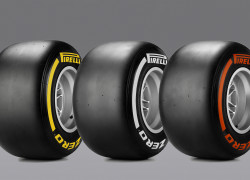 Pirelli have revealed the tyre choices for round 5 of the Formula 1 World Championship at the Circuit De Catalunya.
For the Spanish Grand Prix Pirelli have nominated the Orange Hard, White Medium and Yellow Soft compound tyres. The hard and medium compound are the tyres that must be used at some point in the race. According to the rules each driver must have both sets available for the race and will have to use at least one of those sets.
The soft compound tyre will be made available for Q3.
The teams will be free to choose the remaining sets of tyres to make up the 13 sets in total for the race weekend.
Picture courtesy Pirelli