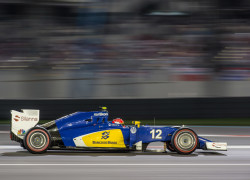 The Sauber F1 Team revealed on Monday that its 2016 contender the C35 will be launched at the second pre-season test which is scheduled to take place between 22-25 February 2016 at the Circuit de Catalunya.
The delay comes after a change to the 2016 testing schedule was made when the Australian Grand Prix was moved up the race calendar. This resulted in a reworked testing schedule. Initially Sauber were on course to launch the C35 in March when the first test was supposed to take place.
Instead of rushing its development, Sauber chose to stick with its original schedule and will push to get their car ready for the second pre-season test which takes place from 1 March 2016 to 4 March 2016.
Sauber will run a modified version of its 2015 car in it's 2016 colours at the first test.