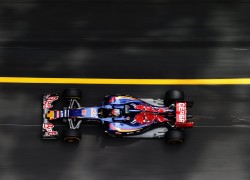 Toro Rosso's Carlos Sainz Jr. will have to start from the pit lane for tomorrows Monaco Grand Prix after failing to stop at the FIA weighbridge during Q1.
Sainz qualified in 8th place on Saturday afternoon, but will have to fight his way up the field on during Sunday's race on a track where overtaking is not so easy.
A statement from the FIA read as follows: "The driver failed to stop for weighing during Q1 when signalled to do so by the red traffic light, the car was not returned to the FIA garage and work was undertaken.
"In accordance with Article 26.1 (iv) of the FIA Formula One Sporting regulations the driver is required to start from the pit lane."
Sainz claims that the position of the red light in the pit lane is in a place that makes it hard for a driver to notice. The FIA clearly felt his explanation was not good enough and as a result he will start from the pitlane.
Photo credit: Scuderia Toro Rosso Formula 1