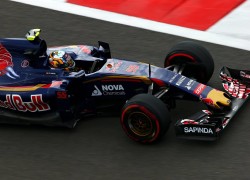 After a horror crash in Free Practice 3, Toro Rosso Driver Carlos Sainz has been released from hospital while his team shed some light on what may have went wrong in the build up to the crash.
Although Sainz is out of the hospital, he will still need to undergo a check by the FIA medical delegate to consider him fit to race on Sunday.
He says that he's ready to race, but it all depends on how he feels on Sunday morning.
"I'm OK, I'm fine," said Sainz in a video message posted on Twitter posted by his team.
"Just a bit sore from the accident on my back and on my neck," the Spaniard continued.
"But I'm totally ready to see what ever happens. Hopefully, tomorrow, I can wake up in good shape and maybe try to race.
"This is the intention, but we need to be cautious obviously."
Carlos Sainz is okay! Here's his video message, following his accident during today's Russian Grand Prix FP3. https://t.co/LrnGuFPr7u

— Toro Rosso (@ToroRossoSpy) October 10, 2015
Meanwhile, back at the track, Toro Rosso have been investigating the cause of the accident.
Team Principal Franz Tost thinks that it may have been a combination of the prime tyre with a change in brake balance.
"Prior to the accident, Carlos had completed a long-run on the option tyre, before changing to the prime to do two further laps," he said.
"On primes the grip level is lower. In addition he had changed the brake shape on the steering wheel, which meant he had more braking rearwards.
"A combination of these two factors might have been the cause of the rears locking, which made the car uncontrollable."
Replays of the crash seem to confirm what Tost is saying as the Sainz brakes, the rear of the car steps out and as he corrects the slide, he hits the nearside barrier which sent him straight into the tech-pro barriers at the end of the run off area.
The final findings of the crash will be revealed by the team at a later stage.
Photo credit: Scuderia Toro Rosso Formula 1