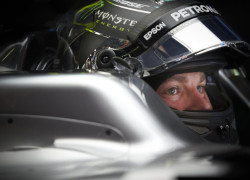 Formula One World Championship leader Nico Rosberg moved Mercedes ahead of the Ferraris during the second practice session for this weekend's Spanish GP.
Rosberg's lap time of 1:23.922 on Pirelli's soft tyres saw him finish the session 0.254s faster than his Ferrari rival Kimi Raikkonen. The Finn, who had been informed by his crew that he had a fuel system problem and needed to head back to the pits halfway through the session, finished 5 tenths faster than the second Mercedes of Lewis Hamilton. Sebastian Vettel brought the second Ferrari home fourth fastest.
Carlos Sainz Jr enjoyed a great session in front of his home crowd in fifth place with Daniel Ricciardo going sixth fastest. Spanish GP home favourite Fernando Alonso finish seventh in his McLaren with Max Verstappen, Sergio Perez and Nico Hulkenberg rounding out the Top 10.
Jenson Button suffered a loss of power during his session and was forced to limp his McLaren back to his garage where he stayed until the latter stages of FP2. He managed to go 12th fastest ahead of Romain Grosjean who complained that his Haas F1 car was very difficult to drive.
Kevin Magnussen was 14th and Kvyat 15th – ten places behind his new Toro Rosso team mate.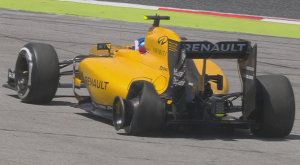 Joylen Palmer got very little running after suffering a high speed tyre failure along the pit straight. Pirelli are still investigating the cause of the failure.
Palmer did manage to return to the track 15 minutes before the end of the session and finished 17th fastest ahead of the two Manor drivers, Pascal Wehrlein and Rio Haryanto.
Sauber had a miserable session with both drivers substantially slower than their Manor rivals.
Esteban Gutierez finished between the two Saubers after also having his running limited by an electronics issue.
Classification for Spanish GP FP2: