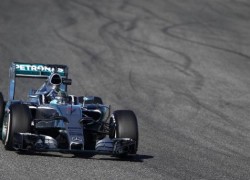 Nico Rosberg ended the 1st practice session for the Malaysian Grand Prix on top of the time sheets for Mercedes as team mate Lewis Hamilton hit engine trouble.
Rosberg set his fastest time of 1:40.124 on his second set of hard compound tyres, 0.373s quicker than Ferrari's Kimi Raikkonen in P2 who set a 1:40.497. Hamilton's was unable to set a time as he came to a stop on the circuit at the start of his session. He was told to stop the car and shut of the engine as a precaution.
Sebastian Vettel did not enjoy the smoothest of sessions but he finished 3rd fastest with a time of 1:40.985, 1.419s ahead of Lotus' Romain Grosjean in P4. Carlos Sainz was 5th fastest for Toro Rosso with a time of 1:41.596 narrowly beating Daniel Ricciardo in P6 with a 1:41.787.
The other Toro Rosso of Max Verstappen finished 7th fastest with Williams' Valtteri Bottas finishing 8th fastest 1.758s off Rosberg's pace after struggling with the balance of the car during the session.
Bottas' team mate, Felipe Massa managed P11 with a 1:42.103 and could be in trouble with the FIA after it was discovered that he may have run with his first set of tyres after the 30min mark in the session. Drivers are given a free set of tyres during the first practice session which they have to hand back after the 30min mark. This could mean a grid penalty for Massa.
Daniil Kvyat in the other Red Bull ended his session 9th fastest 0.2s ahead of Sauber's Marcus Ericsson in P10.
With a few off track moments Pastor Maldonado secured P12 for Lotus with Raffaele Marciello finishing P13 for Sauber.
On his first taste of the 2015 season, McLaren's Fernando Alonso could only manage P14 nearly 3s off the pace with his team mate Jenson Button down in P17. This was expected according to Button so it comes as no surprise to McLaren.
The Force India pair of Nico Hulkenberg and Sergio Perez finished P15 and P16 respectively.
The Manor team had their first go at the 2015 season when both their drivers were able to get some laps on the board. Will Stevens completed 8 laps with his best time of 1:46.686. Roberto Merhi completed the same amount of laps with his best time of 1:47.683. More importantly the times they have set are within the 107% of Rosberg's time which bodes well for the team in qualifying.