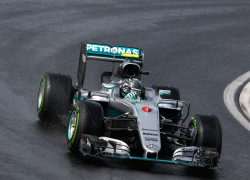 Nico Rosberg finished on top of the time sheets for Mercedes in Free Practice 1 for the German Grand Prix.
Rosberg lead a Mercedes 1-2 finish for FP1 at his home Grand Prix after setting a session best time of 1:15.517. His team-mate Lewis Hamilton managed a best time of 1:15.843, 0.325s off Rosberg's pace.
The Ferrari duo were a bit further off the pace with Sebastian Vettel placed 3rd fastest, 1.150s off the pace. Kimi Raikkonen finished 4th fastest setting a best time of 1:16.852.
The Red Bull pair finished 4th and 5th with Max Verstappen ahead of Daniel Ricciardo. McLaren pair Fernando Alonso and Jenson Button ended the session behind the Red Bulls, 7th and 8th fastest with Jenson Button the slower of the two McLaren's 2.095s off Rosberg's best lap time.
Rounding out the top 10 was the Toro Rosso pair of Daniil Kvyat and Carlos Sainz. Kvyat improving a little later in the session to place him 9th fastest with a time of 1:18.008 ahead of Carlos Sainz who's best time was a 1:18.044.
| | | | | | |
| --- | --- | --- | --- | --- | --- |
| Pos | Driver | Car | Time | Gap | Laps |
| 1 | Nico Rosberg | Mercedes | 1:15.517 | – | 32 |
| 2 | Lewis Hamilton | Mercedes | 1:15.843 | +0.326 | 30 |
| 3 | Sebastian Vettel | Ferrari | 1:16.667 | +1.150 | 29 |
| 4 | Kimi Raikkonen | Ferrari | 1:16.852 | +1.335 | 23 |
| 5 | Max Verstappen | Red Bull | 1:16.927 | +1.410 | 29 |
| 6 | Daniel Ricciardo | Red Bull | 1:17.089 | +1.572 | 30 |
| 7 | Fernando Alonso | McLaren | 1:17.183 | +1.666 | 18 |
| 8 | Jenson Button | McLaren | 1:17.612 | +2.095 | 15 |
| 9 | Daniil Kvyat | Toro Rosso | 1:18.008 | +2.491 | 25 |
| 10 | Carlos Sainz | Toro Rosso | 1:18.044 | +2.527 | 22 |
| 11 | Marcus Ericsson | Sauber | 1:18.198 | +2.681 | 28 |
| 12 | Valtteri Bottas | Williams | 1:18.210 | +2.693 | 37 |
| 13 | Felipe Massa | Williams | 1:18.322 | +2.805 | 33 |
| 14 | Romain Grosjean | Haas | 1:18.589 | +3.072 | 20 |
| 15 | Nico Hulkenberg | Force India | 1:18.591 | +3.074 | 35 |
| 16 | Sergio Perez | Force India | 1:18.628 | +3.111 | 29 |
| 17 | Charles Leclerc | Haas | 1:18.882 | +3.365 | 32 |
| 18 | Kevin Magnussen | Renault | 1:18.933 | +3.416 | 35 |
| 19 | Felipe Nasr | Sauber | 1:18.961 | +3.444 | 22 |
| 20 | Esteban Ocon | Renault | 1:18.981 | +3.464 | 30 |
| 21 | Rio Haryanto | Manor | 1:19.167 | +3.650 | 34 |
| 22 | Pascal Wehrlein | Manor | 1:19.975 | +4.458 | 33 |