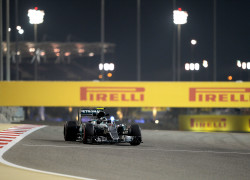 Mercedes' Nico Rosberg went faster than his team-mate Lewis Hamilton to take the fastest time of Free Practice 2 for the Bahrain Grand Prix.
Rosberg set a time of 1:31.001 on the super soft tyre edging out his team mate Hamilton by 0.241s. Hamilton managed a best time of 1:31.242. Rosberg's time is about 1.6s faster than last years pole position time.
In a rather surprising turn of pace McLaren's Jenson Button finished 3rd fastest with a 1:32.281 and 1.281s off the pace. After setting his fastest time, Button quipped, "I found the go faster button. I found it!" over the radio. His time on the super soft tyres put him ahead of Toro Rosso's Max Verstappen who finished 4th fastest.
The Ferrari pair of Kimi Raikkonen and Sebastian Vettel finished the session 5th and 6th respectively. Both drivers' were unable to capitalise on their flying laps due to traffic in the middle sector. Towards the end of the session Vettel came to a stop on the track. It was initially thought that he had a gearbox problem. While waiting for his car to be lifted on to the flat bed truck the rear left wheel could be seen hanging off. Vettel was seen tightening the wheel nut. He later radioed his team informing them that the wheel nut had come loose.
Red Bull's Daniil Kvyat was 7th fastest with Williams' Valtteri Bottas in 8th. Kvyat's team-mate Daniel Ricciardo ended his session 9th fastest with Felipe Massa in the other Williams rounding out the top 10 nearly 2 seconds off the pace.
On his Formula 1 debut, Stoffel Vandoorne ended his second practice session 11th fastest in the McLaren. Haas F1's Esteban Gutierrez was 12th fastest. His team mate Romain Grosjean suffered a front wing failure at Turn 13 after running over the bumpy apex of the corner. Haas say that because of the vibration of the car the wing was caught on one of the bumps which caused the failure. "It wasn't a failure – he went over the kerbs and something broke, it touched the kerb with the vibration," said Haas F1 Team Boss Gunther Steiner.
Carlos Sainz finished down in 13th with Grosjean 14th fastest. Sergio Perez finished 15th fastest in the Force India ahead of Renault's Kevin Magnussen. Nico Hulkenberg in the second Force India ended his session in 17th.
Finishing in 18th was Jolyon Palmer ahead of 19th placed man Pascal Wehrlein in the Manor. The two Saubers of Marcus Ericsson and Felipe Nasr finished 20th and 21st respectively with Rio Haryanto closing out the grid in 22nd.
| | | | | | |
| --- | --- | --- | --- | --- | --- |
| Pos. | Driver | Team | Best Time | Gap | Laps |
| 1 | Nico Rosberg | Mercedes | 1:31.001 | – | 38 |
| 2 | Lewis Hamilton | Mercedes | 1:31.242 | 0.241 | 32 |
| 3 | Jenson Button | McLaren | 1:32.281 | 1.280 | 32 |
| 4 | Max Verstappen | Toro Rosso | 1:32.406 | 1.405 | 31 |
| 5 | Kimi Raikkonen | Ferrari | 1:32.452 | 1.451 | 38 |
| 6 | Sebastian Vettel | Ferrari | 1:32.650 | 1.649 | 26 |
| 7 | Daniil Kvyat | Red Bull | 1:32.703 | 1.702 | 34 |
| 8 | Valtteri Bottas | Williams | 1:32.792 | 1.791 | 39 |
| 9 | Daniel Ricciardo | Red Bull | 1:32.870 | 1.869 | 23 |
| 10 | Felipe Massa | Williams | 1:32.873 | 1.872 | 36 |
| 11 | Stoffel Vandoorne | McLaren | 1:32.999 | 1.998 | 30 |
| 12 | Esteban Gutierrez | Haas | 1:33.129 | 2.128 | 31 |
| 13 | Carlos Sainz | Toro Rosso | 1:33.177 | 2.176 | 36 |
| 14 | Romain Grosjean | Haas | 1:33.384 | 2.383 | 23 |
| 15 | Sergio Perez | Force India | 1:33.406 | 2.405 | 35 |
| 16 | Kevin Magnussen | Renault | 1:33.447 | 2.446 | 34 |
| 17 | Nico Hulkenberg | Force India | 1:33.570 | 2.569 | 37 |
| 18 | Jolyon Palmer | Renault | 1:33.640 | 2.639 | 35 |
| 19 | Pascal Wehrlein | Manor | 1:33.953 | 2.952 | 21 |
| 20 | Marcus Ericsson | Sauber | 1:34.224 | 3.223 | 31 |
| 21 | Felipe Nasr | Sauber | 1:34.477 | 3.476 | 34 |
| 22 | Rio Haryanto | Manor | 1:34.562 | 3.561 | 33 |
Photo by courtesy Pirelli