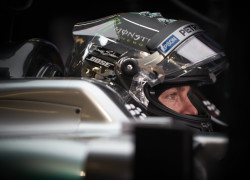 Mercedes driver Nico Rosberg claimed pole position for the Japanese Grand Prix at Suzuka in a red flagged qualifying session following a massive crash for Red Bull's Dany Kvyat.
Rosberg, claiming his second pole position for the 2015 Formula One season, set a time of 1:32.584 – 0.076s clear of team mate Lewis Hamilton.
Hamilton made a mistake at the hairpin, locking up and was denied a final flying lap after Kvyat's crash.
Kvyat lost control of his Red Bull after dipping two wheels onto the grass coming up to the hairpin and rammed into the barriers, flipping his car along the way.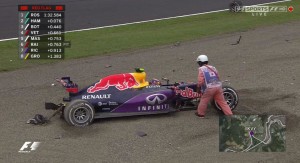 Thankfully Kvyat was able to get out of his car unaided and was was able to walk away uninjured.
With only a half a minute of the session remaining, it was not restarted handing Rosberg the pole position.
Valtteri Bottas finished third for Williams ever so slightly ahead of Ferrari's Sebastian Vettel. Felipe Massa and Kimi Raikkonen will line up behind them with Daniel Ricciardo starting in seventh place.
Romain Grosjean was eighth for Lotus while Sergio Perez did not manage to set a time in ninth place, ahead of Kvyat in tenth.
Nico Hulkenberg qualified in 11th place for Force India but will drop three places as a result of his penalty for causing a collision with Felipe Massa at the Singapore Grand Prix.
Carlos Sainz Jr. who finished 12th will move up to 11th place, ahead of Pastor Maldonado and Fernando Alonso.
Max Verstappen was 15th after stopping his car on the circuit due to a loss of power and was unable to take any further part in qualifying.
Jenson Button brought his McLaren home in 16th place, qualifying outside the top 10 at Suzuka for the first time in his career. His first run was not satisfactory as his team had not given him the correct engine setting and he felt that the double yellows for Verstappen's car on the circuit cost him his best lap.
Marcus Ericsson was 17th after spinning off at Spoon early in the session and his team mate Felipe Nasr was also eliminated.
The Manor Marussia pair of Will Stevens and Alexander Rossi will line up on the back row of the Suzuka grid.
Suzuka qualifying photo credits:
Nico Rosberg: Mercedes AMG Petronas
Screengrabs: FOM