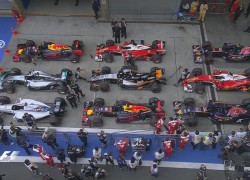 Nico Rosberg resisted what seemed to be a mighty threat from Ferrari to claim the pole position in what turned out to be an action packed qualifying session ahead of the Chinese GP.
Kimi Raikkonen threatened to claim the pole with Rosberg trailing him after the initial Q3 runs but going too deep into the penultimate corner, and a perfect 1:35.402 lap from Rosberg handed the German the pole.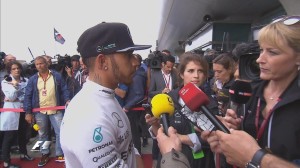 Team mate Lewis Hamilton, who already headed into qualifying with a five place grid drop for a gearbox change, will start from the back of the grid tomorrow.
Mercedes are still trying to fix the problem with Hamilton's ERS but seem confident that they will be able to solve the problem in time for the race. Hamilton has won the last four Chinese grands prix – he'll have to really earn his pounds tomorrow if he wants to make it five in a row.
Rosberg cruised his way through Q2 on Pirelli's soft tyres, meaning that he will be starting the race on the soft compound rather than the super softs which are expected to only last only a few laps.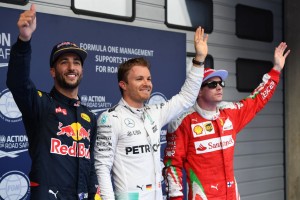 Ricciardo stormed through his final lap to start on the front row for Red Bull, finishing second – just over half a second down on Rosberg's Chinese GP pole time.
Raikkonen managed to salvage third – the Finn very disappointed in his result after making the mistake into the penultimate corner.
After having his fans at the edges of their seats with the hopes that the Iceman would claim his first pole position since 2008, the disappointment was more than obvious.
Ferrari team mate Sebastian Vettel opted to go for only a single run in Q3 in a likely effort to save an extra set of tyres for the race but rand deep at the hairpin and finished only fourth.
Valtteri Bottas finished 5th for Williams with Daniil Kvyat, Sergio Perez and the Toro Rosso drivers behind him.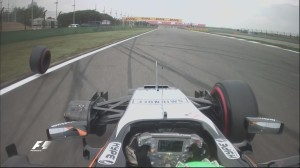 Nico Hulkenberg had made it through to the Top 10 Chinese GP pole shootout but could take no part in it after his front left tyre simply slipped off at a thankfully low speed during the final minutes of Q2 which brought out the second red flag of the session.
Interestingly there was no word of any investigation from the stewards into the incident.
Felipe Massa only just missed out on a slot in Q3 after being caught out by the red flag.
McLaren drivers Fernando Alonso and Jenson Button also felt they had a chance of getting through before the red flag came out, with Alonso repeating a good few ARGH's over his team radio after being told he wouldn't be able to have a go at it. Button, just as frustrated responded with a, "You've got to be kidding me!"
The McLaren Honda team looks to have made some good progress. Both drivers never got to show their true pace but they will however have a free choice of tyres for the race start tomorrow which could help them make out the deficit suffered today.
Romain Grosjean was 14th for the Haas F1 team with Felipe Nasr behind him.
Renault drivers Kevin Magnussen and Jolyon Palmer finished 17th and 19th with Esteban Gutierrez splitting the pair in 18th place. Rio Haryanto finished in 20th place.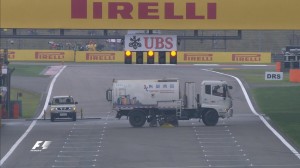 Pascal Wehrlein took part in only five minutes of Q1 after he lost control on a bump along the main straight and brought out the first red flag of the session. The delay lasted for 20 minutes as marshalls spent time drying wet patches of water.
Many fans took to Twitter to voice their frustration that such action was being taken for what really amounted to puddles considering the fact that these – the best drivers in the world – do have wet and intermediate tyres available. Wehrlein was running on slicks at the time.
Will Lewis Hamilton be able to fight his way through the pack and pose any sort of a threat up front tomorrow? One thing is for sure – this is definitely going to hurt his title prospects. Rosberg has the Chinese GP pole in his pocket, but not the race victory just yet … Perhaps the Ferrari team could unsettle things at the top a little further with both Raikkonen and Vettel hungry for a win. And, with Daniel Ricciardo in the mix up front, we could just be in for a proper cracker of a race tomorrow. Join us for live commentary, banter and opinions on Twitter @F1_Madness before, throughout, and after the Chinese GP.
Photo Credits: Screengrabs as broadcast by FOM