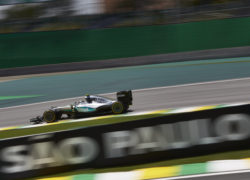 Nico Rosberg took the honors for the fastest time in the third free practice session for the Brazilian Grand Prix.
The session got off to a slow start after some rain earlier in the day left the track damp in some places. The damp track seen drivers venture out on the full wets for installation laps. A few laps on the full wets was quickly followed by slick tyres.
Rosberg was just 9 hundredths of a second faster than team-mate Lewis Hamilton. Rosberg's time of 1:11.740 was 0.093s faster than Hamilton who set a best time of 1:11.833. Rosberg's time came on his second go at a flying lap where he found some time.
After a very disappointing showing of pace in yesterday's sessions, Ferrari's Sebastian Vettel was 3rd fastest 0.219s off the pace with a 1:11.959. Once again there was not much between the two Ferrari drivers with Kimi Raikkonen 4th fastest with a session best time of 1:12.027. Raikkonen held the fastest lap early on in the session until the second round of soft tyre runs.
The Red Bull pair of Max Verstappen and Daniel Ricciardo finished 5th and 6th fastest respectively. Williams' Valtteri Bottas was 7th fastest with team-mate Felipe Massa in 9th. Splitting the Williams was Renault's Jolyon Palmer in 8th.
Finishing off the top 10 was McLaren's Fernando Alonso. Alonso's session had a slight delayed start after gearbox issue on his car. He was out on track with 30mins left in the session. His team mate Jenson Button's session was riddled with issues. Button struggled with front grip and front warming. Towards the end of the session he was told to stop the car. Button managed to nurse the car back to the pits which brought his session to an early end.
Sauber had issues with both their cars. Early on in the session Felipe Nasr was called in with a problem on his car. Nasr was back out after a few mins. The team, however, found a problem with Ericsson's engine and found they would have to replace the engine before qualifying.
After struggling for pace yesterday, Ferrari look like they're in a better position for fight for the second row of the grid. It does look like the cooler temperatures suit the Ferrari better than the warmer conditions we saw yesterday. Red Bull do look like they have the edge on Ferrari and are expected to have both their cars ahead of Ferrari at the end of Qualifying.
| | | | | | |
| --- | --- | --- | --- | --- | --- |
| Pos. | Driver | Team | Best Time | Gap | Laps |
| 1 | Nico Rosberg | Mercedes | 1:11.740s | – | 19 |
| 2 | Lewis Hamilton | Mercedes | 1:11.833s | +0.093s | 21 |
| 3 | Sebastian Vettel | Ferrari | 1:11.959s | +0.219s | 14 |
| 4 | Kimi Raikkonen | Ferrari | 1:12.027s | +0.287s | 16 |
| 5 | Max Verstappen | Red Bull | 1:12.077s | +0.337s | 19 |
| 6 | Daniel Ricciardo | Red Bull | 1:12.287s | +0.547s | 21 |
| 7 | Valtteri Bottas | Williams | 1:12.614s | +0.874s | 27 |
| 8 | Jolyon Palmer | Renault | 1:12.968s | +1.228s | 19 |
| 9 | Felipe Massa | Williams | 1:12.990s | +1.250s | 26 |
| 10 | Fernando Alonso | McLaren | 1:13.002s | +1.262s | 12 |
| 11 | Nico Hulkenberg | Force India | 1:13.203s | +1.463s | 14 |
| 12 | Sergio Perez | Force India | 1:13.231s | +1.491s | 19 |
| 13 | Kevin Magnussen | Renault | 1:13.255s | +1.515s | 15 |
| 14 | Carlos Sainz | Toro Rosso | 1:13.293s | +1.553s | 20 |
| 15 | Romain Grosjean | Haas | 1:13.344s | +1.604s | 15 |
| 16 | Esteban Gutierrez | Haas | 1:13.596s | +1.856s | 16 |
| 17 | Daniil Kvyat | Toro Rosso | 1:13.609s | +1.869s | 13 |
| 18 | Jenson Button | McLaren | 1:13.750s | +2.010s | 9 |
| 19 | Pascal Wehrlein | Manor | 1:13.972s | +2.232s | 20 |
| 20 | Felipe Nasr | Sauber | 1:13.992s | +2.252s | 14 |
| 21 | Esteban Ocon | Manor | 1:14.222s | +2.482s | 21 |
| 22 | Marcus Ericsson | Sauber | – | – | 1 |