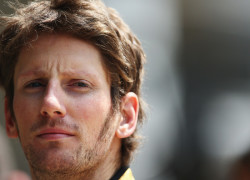 Romain Grosjean was confirmed by Haas F1 Team Founder Gene Haas as one of their drivers for the 2016 Formula 1 Season.
Grosjean made his debut for Renault in 2009 and was then on the sidelines for two years. He then got a drive with Lotus in 2012. The Frenchman will leave the troubled Lotus team at the end of this year and will join Haas F1 new team from 2016.
The announcement was made by Team Founder Gene Haas and Team Principal Guenther Steiner at their headquarters in Kannapolis, North Carolina.
Gene Haas said, at the announcement, that he wanted a driver with experience to lead the team in 2016.
"We wanted an experienced driver capable of developing our car and our race team into one that can score points and better itself each race and each season," said team founder Gene Haas.
"We found him in Romain Grosjean"
"I've been involved in motorsport for a long time and learned early on the most crucial component is the driver.
"Romain has strong credentials and he will be an important asset to Haas F1 Team."
When asked about his decision to join the team Grosjean said that he is impressed with Haas' approach and he liked the close link to Ferrari.
"What Gene Haas and everyone at Haas F1 Team is building is impressive, and I'm very proud to be a part of it," Grosjean said.
"I liked the fact at Haas is a different operation. I liked the relationship with Ferrari. I'm happy with the decision.
"Formula One is incredibly competitive and the only way to succeed is by finding new ways of doing things. This is a new opportunity with a new team that is taking a very different approach to Formula One.
"I believe in their approach and they believe in me. While I am committed to giving my absolute best to my current team in these last five races, I am very excited for what the future holds at Haas F1 Team."
It's an inspired move from Grosjean. Moving into a new team is always a daunting task. Moving to a team that is just entering Formula 1 is something on another level. It's going to be a very tough road for Grosjean. If he is successful with the team it could turn out to be one of the best moves of his F1 career. Not to mention the very close ties Haas F1 has with Ferrari. There could be a Ferrari seat with Grosjean's name on it in the future.