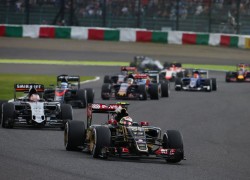 Renault have made the first move in acquiring the Lotus F1 Team by signing a letter of intent to take a controlling interest in the team.
This comes after months of negotiations with the owners of the Lotus F1 Team, Genii Capital. This move paves they way for Renault to return to F1 as a full works team and not just and engine supplier.
The Renault press statement in full:
"Renault Group and Gravity Motorsports S.a.r.l., an affiliate of Genii Capital SA, are pleased to announce the signature of a Letter of Intent regarding the potential acquisition by Renault of a controlling stake in Lotus F1 Team Ltd.
The signature of this Letter of Intent marks Renault's first step towards the project of a Renault Formula 1 team from the 2016 racing season thereby extending 38 years of commitment of the brand to world's premier motorsport championship series.
Renault Group and Gravity will work together in the coming weeks to eventually turn this initial undertaking into a definitive transaction provided all terms and conditions are met between them and other interested "
The last time we seen Renault in F1 was in 2009. It won world championships with Fernando Alonso in 2006 and 2006.
This is good news for F1 and for Lotus, who spent the Japanese Grand Prix locked out of their hospitality unit due to non-payment. The team is also due in court on Monday for an outstanding tax bill. This announcement comes at just the right time for the troubled team.