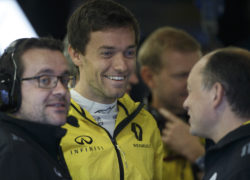 The Renault Formula 1 Team announced that it will retain the services of Jolyon Palmer for 2017.
Palmers future at the Enstone based team was in doubt a few weeks ago when it was announced that Nico Hulkenberg would join the team from 2017. Reports backed his current team mate, Kevin Magnussen, to be retained at Renault for 2017.
It has emerged that Magnussen is no the verge of a move to Haas F1 Haas F1 for 2017. With Palmers announcement at Renault this makes it highly probable that the Dane will make his way to the U.S to join Haas.
"I'm over the moon to be racing with Renault Sport Formula One Team for a second season and I can't wait to reward the team's faith in me on track," said Palmer.
"Having worked out of Enstone since 2015 I can fully appreciate the development of the infrastructure this year. This means I share the excitement of the team looking to 2017 and our new car.
"For me, it's been a steep learning curve driving in Formula 1 and I know that I am performing better than ever, and that there's still more to come.
"There is tremendous drive and enthusiasm in Enstone and Viry looking to next year and I am honoured to be part of this."
Picture credit: Renault Sport Formula One Team