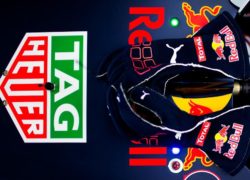 Red Bull and Tag Heuer have announced that the team will continue to run the TAG Heuer branded engines till 2019.
Towards the end of 2015 Red Bull threatened to leave F1 after struggling to find a replacement engine supplier after the poor performance of the Renault engines that previously powered the team to 4 Constructors Championships. At the beginning of the 2016 season Red Bull agreed to continue to use the Renault engines but they would be branded with the TAG Heuer name.
Since the partnership Red Bull have had a more successful 2016 and have 2nd place in the constructors championship within their grasp.
"I am very pleased to be extending our engine partnership with TAG Heuer today," said Red Bull Team Principal Christian Horner.
"TAG Heuer and Red Bull Racing are two brands which both have a passion for racing and a drive to do things differently, and this forms the basis of our partnership.
"The TAG Heuer motto of 'Don't Crack Under Pressure' is something that we at Red Bull Racing live by day-to-day, so we look forward to helping TAG Heuer tell that story in the seasons ahead."
TAG Heuer Global Sports Director, Marc Biver added: "Formula One is part of TAG Heuer's DNA.
"Red Bull Racing is a young, dynamic and driven team, perfectly in tune with our marketing strategy.
"This extension will give us even greater visibility, with a real focus on the future. We have a lot of different projects ahead of us in 2017, projects that are both creative and exciting.
"Our motto #DontCrackUnderPressure is our guiding principle in all our actions, with the support of the Red Bull Racing team and its highly contagious enthusiasm."
Photo credit: Red Bull Racing Formula One Team