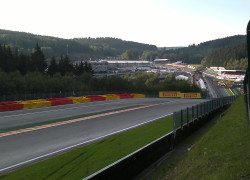 Race starts from this weekend's Belgian Grand Prix will work much differently thanks to rule changes by the FIA.
Previously drivers were given instructions and guidance on what procedures to follow before the formation lap and on the formation lap before a race to get the temperature of the clutch and tyres up to a working range. From, Spa the FIA has banned driver assistance from the pit wall for the start of races and instead it will be up to the drivers to get the cars off the line cleanly.  This means no more clutch bite point finds on the grid and no more feedback from the pit walls.
The new regulations state that the clutch bite point on a car may not be changed after the driver has left the garage for the first time after the pit lane has been opened until after the race has started. Drivers will be afforded one change to manually change the bite point of the clutch after the race has started. Radio communications between the pit wall and driver during the formation lap has been limited to safety messages regarding problems with the car, a change in track conditions, warning flags and problems with other cars.
Race starts at Spa tend to be unpredictable. The run to La Source is short and the bottleneck of cars makes things very tricky to get through. Without assistance from the pit wall for the drivers, things could become a lot more interesting this weekend.
Of course the engineers and drivers will be very well prepared for this and no doubt that they have run though this many times through the simulators at their disposal. But no amount of practice and simulations can come close to practical real-world application. We can expect to see many practice start procedures, more than normal throughout the weekend.
Most of the drivers questioned were cautious about the move and have adopted a "wait and see" attitude. Lewis Hamilton has said that it will make the starts more unpredictable. Hamilton also thinks that the FIA has underestimated the effect of race starts on the result. He's also voiced his concern that there may be more weaving by drivers to avoid drivers that have had slow or bad starts.
Nico Rosberg feels that the rule change is a good thing and that it brings the onus back onto the driver.
"It's good because it puts the start fully into our hands – 100 per cent driver," he said. "There is no engineer involved or anything."
"If it's a good start, it's the driver. If it's a bad start, it's the driver, which is good because it puts a bit more variability into it."