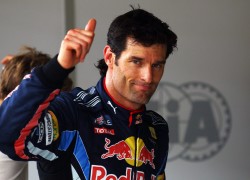 One would think it would be very difficult to fill the void for drivers who leave the fast-paced life of Formula One, but true to character it seems that won't be the case for Mark Webber.
Following his final F1 race in Brazil, the 37-year-old Australian looks ahead to the next chapter of his racing career.
Q: How does it feel to leave the F1 paddock?
Mark Webber: It'll be a relief in some ways for that chapter to be finally over. F1 has been my environment for so long now but it's time for a new challenge which I'm looking forward to. I'm not planning to revisit the F1 paddock too soon but on the two or three occasions I might do each year, I'm sure it'll be in a more relaxed frame of mind.
Q: How do you feel about the next chapter of your racing career?
Mark Webber: I'm very excited about it. The first year will be different of course, different schedule, different type of racing, different people but at this time of my career it's a perfect balance between adrenaline and working hard with a fantastic brand such as Porsche.
Q: Outside of F1, one of your big passions has been adventure and fitness – will you be doing some more of that?
Mark Webber: Well, the Tasmania Challenge is where I really got into adventure and fitness back in 2003. That's still going strong and this year's race starts on Wednesday. I won't be there this time, because of team commitments but adventure is a key part of what I am and so I hope we can continue to grow that event, and maybe others, in the future.
Q: How involved have you been with this year's event?
Mark Webber: I always like to keep tabs on how plans are developing through the year and I've talked over the course with the event guys down there. It takes a route around North Western Tasmania and sounds awesome so I'm gutted I won't be able to give it a go. It's a beautiful part of Tasmania and I'm actually very jealous of the guys who are going to get to race out there!
Q: The Challenge has been the main driver for your Foundation – what plans do you have for that in future?
Mark Webber: So far we've raised over AUD$1.5m through the five Challenges we've run so far. In the last few years we've been supporting the Save the Tasmanian Devil Appeal and children's charity Whitelion, and the funds have helped both charities make some real progress.
Q: You are also mentoring young New Zealand racer Mitch Evans – who incidentally is going to be competing in the Challenge this year. How do you think he'll do?
Mark Webber: In the Challenge, or in his career? I think he'll have a good time in the Challenge, but I've warned him it's pretty tough. To race in GP2, though, you have to be pretty fit so he should do ok. In terms of his future, we'll have to see but he's going the right way about things and he's knocking on the F1 door now. Next year could be a pretty big year for him.
Q: How intense will your racing calendar be now, and how much time will you get to do more adventure stuff?
Mark Webber: I don't know how the first year will go out so it's a case of wait and see. But, I do have an eye on a few events which I don't have the motivation to do just yet but I'm sure I will once I have more time on my hand! I'm looking forward to not having to rush to do things and trying to squeeze them in between my race schedule, and having the opportunity to do some great things with people I enjoy spending time with in the adventure racing arena.
Q: And finally, what will you miss about F1?
Mark Webber: Driving the cars at some of the world's most amazing circuits and the level of precision involved. But of course I'll be looking to take a lot of that with me to Porsche.