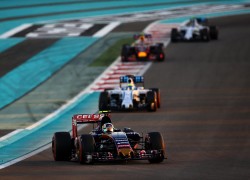 Toro Rosso's Max Verstappen was handed a post race drive through penalty for ignoring blue flags in Sunday's race for the Abu Dhabi Grand Prix.
The rookie impeded Mercedes' Lewis Hamilton towards the end of the race and was handed the drive through penalty which was converted to a 20-second time penalty. That meant Verstappen finished lower down the order in 16th position from 12th.
His drive through penalty also included one penalty point on his super license. This brings a total of 8 points on his super license. Under the current regulations, if a driver collects 12 penalty points he incurs a one-race ban. The penalty points do expire in May 2016 but until then he will have to behave himself on the track next year.