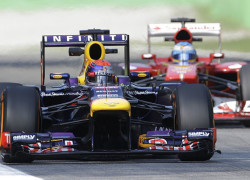 Red Bull Racing's Sebastian Vettel has secured pole position ahead of the Korean grand prix.
The qualifying session for the Korean GP got underway under blue skies with the threat of rain having completely sub-sided. The first session saw the elimation of both the Marussia and Caterham teams and suprisingly both the Williams' drivers Pastor Maldonado and Valterri Bottas failed to advance beyond the first part of qualifying.
The elimination of both Williams drivers was somewhat surprising given the relative pace both drivers were able to show throughout the free practice sessions. The Williams team has also brought several upgrades to the car including a new front-wing on Maldonado's car.
The second session of qualifying seemed to follow the two-by-two elimination process as both Force India's, both Toro Rosso's and both McLaren's didn't make the cut. Jenson Button and Force India's Paul di Resta complained about traffic towards the end of their laps. The biggest improvement was shown by the Sauber duo of Esteban Gutierrez and Nico Hulkenberg as both drivers advanced to the final part of qualifying.
The final top ten shoot-out was expected to a be close fight between Mercedes' s Lewis Hamilton and Sebastian Vettel. While Vettel did not annihilate Hamilton in terms of pace it decidedly comfortable for the three time champ.  margin of two tenths ultimately secured pole position for Vettel. Mark Webber set the third quickest time in the session but slide back to thirteenth as a result a ten place grid penalty.
Romain Grosjean recorded the fourth fastest time but will move onto the second row of the grid at the expence of Webber. Nico Rosberg quietly slotted into fifth ahead of Ferrari drivers Fernando Alonso and Felipe Massa. Nico Hulkenberg and Esteban Gutierrez was quick enough for 8th and ninth as Kimi Raikkonen bailed out of his final qualifying run after making a mistake on his one and only set of new supersport tyres.
Sebastian Vettel continues his domination with yet another pole position and the rest as they say is record breaking history.