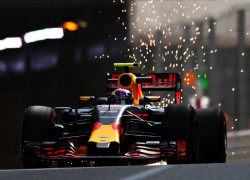 Red Bull Racing's Max Verstappen will start from the pit lane at Sunday's Monaco Grand Prix race after his Q1 crash.
Verstappen crashed in Q1 making contact with the inner barrier at Turn 15 with his front right wheel. He broke his cars track rod in the contact. With no steering control Verstappen speared into the outside barrier of Turn 16. He's car had sustained quite a bit of damage in the contact.
Red Bull took the decision to build a new car for Verstappen around a new chassis tub. The car will be built overnight and the stewards have agreed to scrutineer the car tomorrow before the race.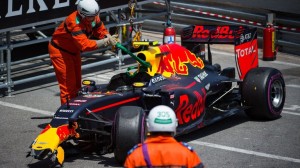 This means that Verstappen will start from the pit lane which gives the team more setup options on the car.
With some rain forecast for tomorrows race the team may got with a rain setup to give Verstappen the edge when the rain does come.
Talking to Motorsport.com Verstappen said that he will do all he can to work his way through the field. He also said that had he not crashed he would've been able to secure a Red Bull front row lock out.